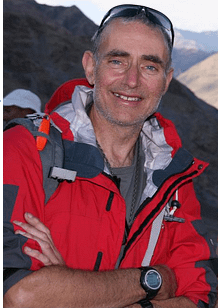 2011 was an epic year for me.  It started off with me hobbling around following a hernia repair operation, and then having the other side done as soon as I was sufficiently recovered.  The consultant was incredibly helpful in shoehorning me into his schedule to ensure I could have the procedures in time for me to get fit for that summer's expedition.
This was to be my first experience of the Greater Himalaya ranges. I had been asked to design and deliver a leadership programme for 15 Young Leaders (YLs) and 45 Young Explorers (YEs) for the British Exploring Society, during a one-month expedition to a remote area of Ladakh in Northwest India.
It turned out to be a massive expedition and in the end we split into two groups, trekking in to separate high altitude valleys. To achieve this I recruited another leadership expert to facilitate the programme in the second valley.
It was a real gift for me to be able to work with these young people. Most of the Young Explorers were about to embark on university, while the Young Leaders were either undergraduates or recent graduates. The programme was designed to help the Young Leaders develop their leadership and mentoring skills, and each YL then practiced their skills by mentoring 3 of the YEs.
To watch as these people developed and grew over the course of the month was such a privilege. One example was a school leaver who disclosed that she had come on the expedition due to having very low self-confidence and self-esteem which had manifested in eating disorders. It was unbelievable to witness her change almost form day to day from the slight and timid individual who had started the expedition. She was so strong and capable and caring. She became a bit of a mother figure and even carried another girl's rucksack one day when she was struggling – carrying two full-weight expedition packs whilst walking at 5,000 metres! In the ten years she has continued to amaze and has done Ironman triathlons among her many achievements.
I think the key to unlocking potential like this is creating an environment where people know that you believe in them. When they lack self-belief they need someone else to do it for them, until they feel ready to take it on themselves and start integrating it into their identity.
This is something I've learned over years of working with and building high-performing teams. People (and teams) will aspire to the level of your belief in them.
When you truly believe in your people, that creates massive engagement! When they know you believe they can succeed they will work with focussed effort, they will put in discretionary effort, and they will perform beyond what they previously thought possible.
And that's what being an Engaging Manager is all about!
Brett Sadler, Leadership Advisor and Strategic Consultant, The UK Leadership Academy Ltd