Please note that events are moderated so there may be a delay between you posting it and your event being live on the site.

Radio Show #389: Engagement Isn't the Point
12 April 2021 |5:30 pm

-

6:00 pm

BST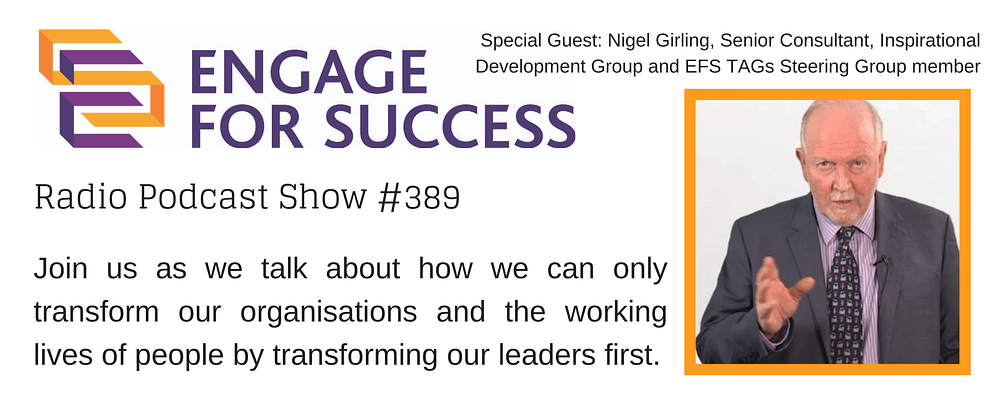 Special Guest: Nigel Girling, Senior Consultant, Inspirational Development Group and EFS TAGs Steering Group member
For a decade, the Engagement movement has been beavering away. And yes, the dial has undoubtedly shifted. A little. Yet we still have thousands upon thousands of leaders who simply don't get it… and other thousands working in roles to do with engagement who seem not to get it either.
Engagement is not the point.
What we want is better organisations doing better work with better outcomes to create a better world. Engagement is just part of that process. A key part, for sure, but not the whole story.
Join us as we talk about how we can only transform our organisations and the working lives of people by transforming our leaders first.
Leadership is what creates culture, leadership sets the goals and influences everyone's life. Let's start there.
Nigel is, first & foremost, a strategic leader. He has served as a CEO in several organisations, in a number of sectors and including more than a decade at the helm of the National Centre for Strategic Leadership. But his has not been, shall we say, a traditional path to the 'top'.
Regularly suspended from school and a serial attendee at Wednesday night's detentions, he was always seen as a disruptive influence. Ironically, the very capability on which he has built a career.
School didn't really work for Nigel. He wasn't able to go to University (mostly because they wouldn't have him) and so went off to be a musician – touring the realm and often the globe playing guitar in a number of rock bands. Long story short, many years later he ended up in the role of a strategic leader – and was very, very bad at it. A year or three of subsequent reflection and study helped him to understand some of the reasons why – and he was inspired to embark on a 25 year crusade to help others to become better leaders and avoid the same mistakes.
Now, he works for Inspirational Development Group (www.inspirationaldevelopment.com) and leads their centre for professional qualifications, supporting and mentoring leaders from board room to tea room. He frequently writes articles, columns and papers (whether anyone wants them or not) and frequently speaks at conferences on the subject of inspirational and engaging leadership. He is a Chartered Companion of the Chartered Management Institute and a Fellow of The Institute of Leadership & Management and is viewed by many of the poor & deluded as an international authority in the leadership field.
Related Events