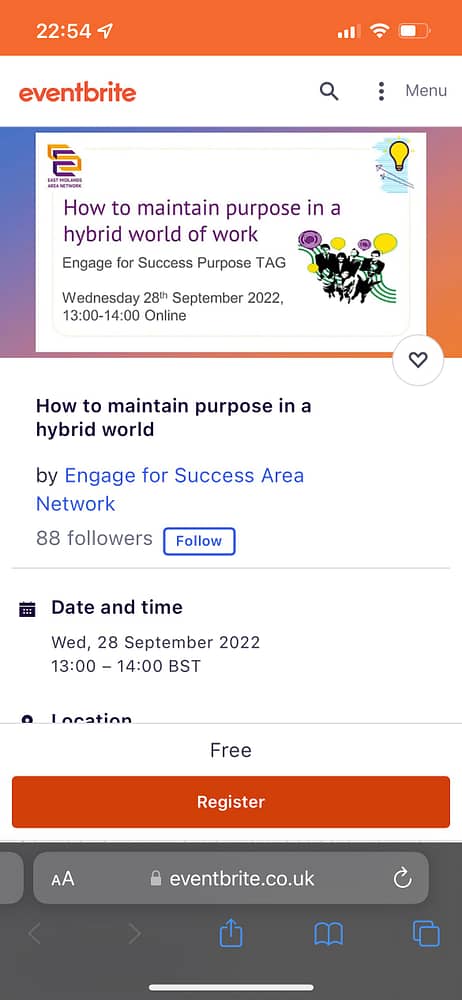 Join us for the launch of the Purpose Thought and Action Group (TAG), a new Engage for Success TAG which aims to explore issues of organisational purpose and meaningful work.
During the session, Frazer Rendell will discuss the importance of purpose to employee engagement and we will hear from Dr Maddy Wyatt on the latest research. The session will be interactive and audience participation will be actively encouraged. Members of the Purpose TAG will be joining the discussion, including Sarah Pass, Rory Campbell, Katie Bailey, James Court-Smith, Maranda Ridgway, and Keeley Evans.
The group is delighted to be working in collaboration with the Meaning and Purpose Network (MaPNet) to examine how to maintain purpose in a hybrid world of work. The Meaning and Purpose Network (MaPNet) was founded by Professor Katie Bailey and is based at King's Business School. The network brings together organisational and HR leaders to debate and discuss the latest thinking on how organisational purpose can be developed, and the challenges of implementation.
Hosted by Engage for Success Area Network
The event is part of a series of online sessions hosted by the Engage for Success East Midlands Area Network and is open to anyone interested in attending. Our deep gratitude goes to our long-standing sponsor Nottingham Business School, Nottingham Trent University.
Details about Engage for Success can be found here: https://engageforsuccess.org/
For more information about events hosted by the East Midlands Engage for Success Group see https://www.linkedin.com/in/east-midlands-engaged/