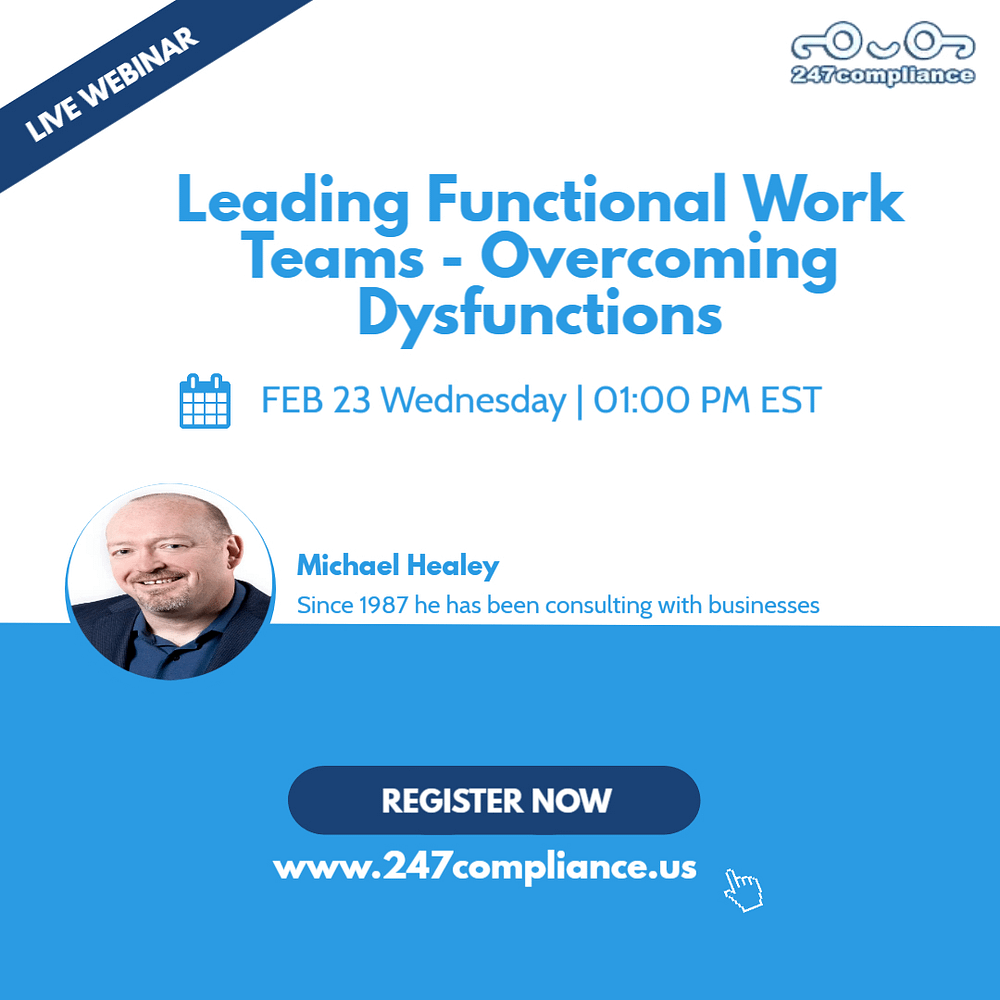 OVERVIEW
Much of the success of an organization can be attributed to the success it the teams and workgroups at every level of the organization, including executive teams. Most teams are neither 100% successful, nor 100% failure – they lie on the spectrum between those two extremes. Which means almost every team can improve. The reasons for the failure or success of a team can sometimes seem obscure, yet there are a handful of factors that will determine the success/failure of the majority of teams. Having the information to assess and diagnose how a team is functioning is the first step to improving the teams' performance.
WHY SHOULD YOU ATTEND?
You know what it feels like to be on a great team. There's trust, collaboration, caring, and incredible energy. You want to go to work every day. On the other hand, you also know what it feels like to be on a dysfunctional team. It's exhausting. You feel like you're swimming against an incoming tide all the time. In teams, the failures are painfully obvious, while in others, they are nuanced and not easily identifiable. In either case, you need to know the specific steps to transform a dysfunctional team into a high-functioning, collaborative, and supportive team. That's what this webinar will address. Learn how to diagnose the 5 primary reasons teams fail. Learn the corrective actions for each of those reasons. Learn the hierarchy – what has to come first to build a foundation. If a solid foundation is not in place, nothing else you do will work.
AREA COVERED
This session covers areas based on the following assumption that you face at work:
You're frustrated and exhausted with some of the dysfunction on your team: you lead, manage or are on a team or workgroup
Want to be on a high-performing, high functioning team
You want to have fun and feel fulfilled by working collaboratively with others on your team
You spend way too much time thinking about how to deal with gossip, lack of accountability, hidden agendas, and destructive conflict
You want specific practical tips, tools, techniques, tactics, and strategies to effectively deal with the most difficult people in your life
LEARNING OBJECTIVES
The 5 critical factors in the failure of teams
A scorecard to diagnose a team's health
Why focusing on productivity, quality or customer service can be a problem if one indispensable factor is missing?
How to eliminate unhealthy gossip?
How to transform conflict from destructive to productive?
Get everyone in the team on the same page
A proven model to build team cohesion and accountability
WHO WILL BENEFIT?
HR professionals
Managers
People's manager
Leaders
Directors
Managers
Supervisors
Business owners
Business consultants
Department managers
Senior leaders
For More Information –
Phone: +1-661-336-9555
Website: https://bit.ly/3gToeK9