Please note that events are moderated so there may be a delay between you posting it and your event being live on the site.

Radio Show #470: How to Shift the Narrative of a Company's Collective Belief System
5 December 2022 |5:30 pm

-

6:00 pm

GMT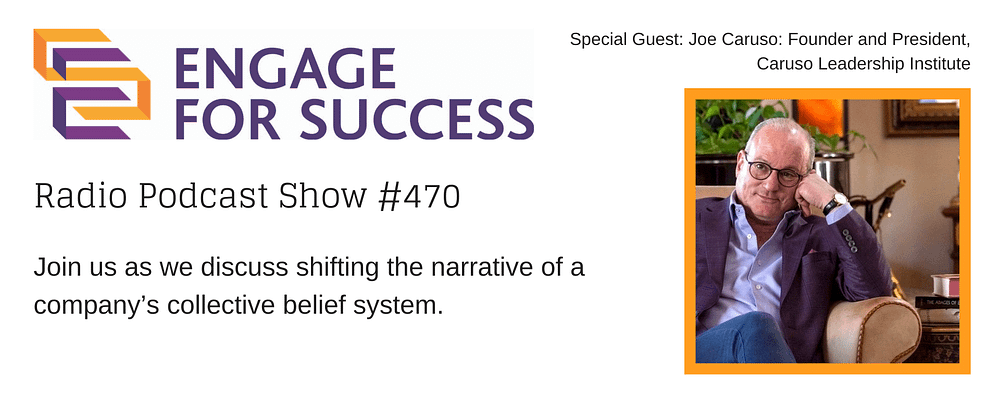 Special Guest: Joe Caruso: Founder and President, Caruso Leadership Institute
Joe Caruso is an expert on the individual mind, the collective mind of an organisation and how meaning drives our behaviour and determines outcomes in all aspects of life. As an author, business advisor and speaker, Joe brings his lifetime of expertise to help organisations and leaders change the way they see themselves — and in turn, the way they think about markets, products and services. Joe has learned this change in thinking drives new behaviour and allows organisations to sharpen focus and reach greater levels of success.
After being diagnosed with an incurable cancer when he was 18, Joe committed whatever time he had left to spending five hours a day, five days per week, studying life. He wanted to identify what he now refers to as "Simple, Common, Timeless Human Truths." In his quest, Joe felt compelled to answer a simple, yet difficult question before he was overcome by the cancer: What is the essence of a fulfilling, successful, and happy life? Joe became one of the first people ever cured of metastasized testicular cancer. With this gift, he decided he would continue his studies, and began to collect and analyse his findings on life. After beating cancer, Joe founded Caruso Leadership, a firm dedicated to helping others achieve their goals while enjoying the process. Through the organisation, Joe applies the simple, common, timeless human truths to leaders, teams and their employees. With the belief that businesses operate as a collective mindset, he helps organisations identify the core issues preventing business breakthroughs and optimise outcomes by encouraging all contributors to get behind a singular vision.
Join us as we discuss shifting the narrative of a company's collective belief system
Listen Live (Archive Available)
Host: Jo Moffatt
Related Events