Please note that events are moderated so there may be a delay between you posting it and your event being live on the site.

Using Stay Interviews To Improve Employee Retention & Engagement
31 August 2022 |3:00 pm

-

4:30 pm

EDT

199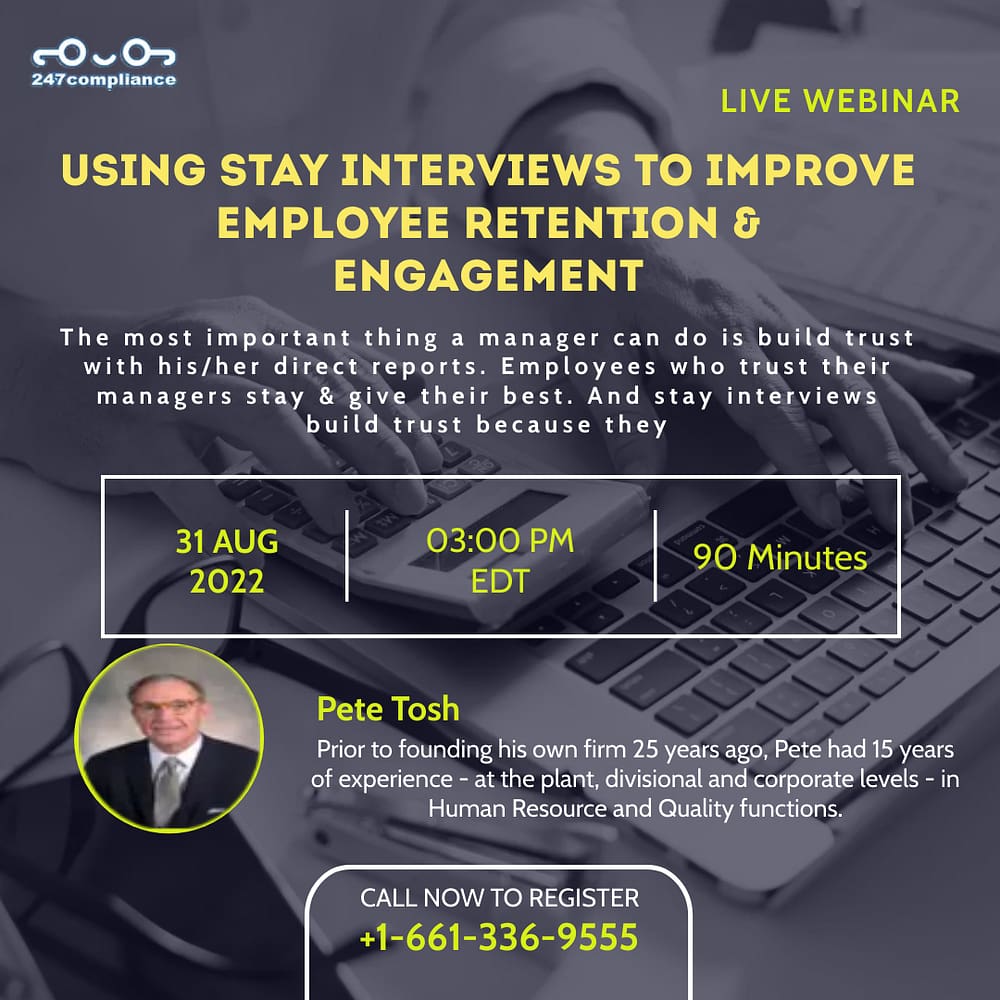 Overview:
There is a strong business case for retaining your talent because:
Turnover is rampant
Most resignations ever in the U.S. in April 2021
4% unemployment rate – 2.2% for college grads
63% of employees say it is  likely they can find a job as good as the one they have
51% of employees & 60% of millennials are considering new employment opportunities
The average tenure for employees in their 20s is less than 18 months
Turnover is expensive
16% of salary for jobs under $30,000 – replacing a $ 10-hour employee costs $3,328
20% of salary for $30-50,000 jobs – replacing a $40,000 employee costs $8,000
Up to 213% of salary for management positions; replacing a $100,000 employee can cost $200,000
And your most talented employees:
Are more likely to be recruited with more opportunities available to them
Are the most expensive to replace
May take top performers and/or customers with them
Managers account for 70% of the variance in  employee engagement & retention with:
65% of employees leaving their boss – not their job
Because of poor managers, productive employees leave organizations even when satisfied with the pay & perks
The prism through which employees see their organization is their view of their manager
Managers are the best resource for improving retention & engagement
The most important thing a manager can do is build trust with his/her direct reports. Employees who trust their managers stay & give their best. And stay interviews build trust because they:
Re-recruit talent by understanding why employees stay or might leave
Make employees feel valued while improving engagement, productivity & retention
Reinforce good relationships between managers & employees, forge new ones & help repair those that are strained
Identify employees' needs & how those needs can best be met creating better employee experiences
Prevent exit interviews.
AREA COVERED
The Objectives of Stay Interviews
What Stay Interviews Are
What Stay Interviews Are Not
Steps in Initiating a Stay Interview Program
Conducting Stay Interviews
Frequency & length
Techniques & skills
Core stay interview questions
Sample potential issues & related probes of employees
Closing a stay interview
Following Through on Your Stay Interviews
Components of a stay interview action plan
Stay interview cautions
The three-step process for retaining employees.
WHO WILL BENEFIT?
Anyone with leadership, management, or supervisory responsibility.
More Info – https://bit.ly/3QCqfdY
Related Events