Peak Productivity? Apply your learning from Covid. Add value to your bottom line.
Pivotal? Agile? Disruptive? Crisis? Growth?…….
Whatever word(s) you use to describe working through a pandemic, there is no doubt that it can provide each and every one of us with the greatest insights and learning, both personally and throughout our business.
Why a focus on Productivity?
Productivity is associated with output and frequently linked to manufacturing.
Productive is an adjective that we use to describe our day – "I've had a really productive day today."
Productive is used to describe our sense of how much we have achieved.
Productivity can be difficult to measure, to define and to tie down to an exact figure.
But what do we mean by productivity? The most useful definition that we have identified to date:
Productivity is: "Greater economic wealth for every hour we work"
Kamal Ahmed, BBC Economic Editor, BBC News, 20th June 2018
So how important is productivity to you in your business, every day this year, next year….?
To increase productivity, most businesses invest in technology and processes with attention often focussed on the Customer Experience. Many fail to recognise that it is their employee experience who deliver the technology, processes and ultimately their customer experience.
3 Components of Peak Productivity
© 2019 My Change Expert ALL RIGHTS RESERVED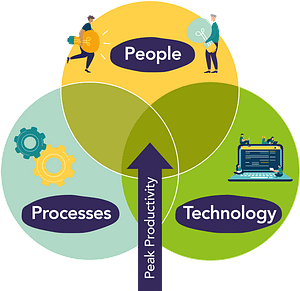 Why Peak Productivity?
Peak productivity:
Adds value to the bottom line
Is your employee experience that is mirrored in your customer experience
Is your brand, is your reputation that attracts and retains loyal people, both staff and customers
Highly successful businesses recognise that it is their people who create their USP. Many will focus on "what their people do," their tasks and actions. Highly successful businesses focus on "how, their people are at work," their behaviours, their attitude and wellbeing. As a result, these businesses create a high performing, highly Productive Culture that develops staff who retain loyal customers. Both add value to the bottom line results.
A Highly Productive Culture?
When the 3 Components that contribute to Peak Productivity are threaded and aligned throughout your business, you have the potential of achieving a Highly Productive Culture.
A Highly Productive Culture is achieved when:
"leaders and managers create an environment where individuals, teams and the company thrive and grow"
© 2019 My Change Expert ALL RIGHTS RESERVED
Business Culture is key because:
Your business culture is unique.
Your business culture is your DNA.
Your business culture cannot be copied.
Your business culture is your competitive advantage.
Our gift to you, a technique to grow Peak Productivity can be found here
Further insights:
CIPD Guidance and exercises aimed at helping line managers support the health, wellbeing and engagement
Grow your own Highly Productive Culture – for a whistle stop tour watch our video of our recent CIPD event
To discover more, do join our Engage for Success event:
#PeopleProductivity@Engage for Success,
join the conversation on 17th February to
Contribute | Collaborate | Co-create | Commit to action
To book your free place, PLEASE BOOK HERE