Would you like to engage your employees, both rationally and emotionally, in what your business is trying to achieve? If so, you already know you need storytelling, but while lots of people have tried it, very few people have actually made it work.
The MacLeod Report recognised a 'strategic narrative' as one of its four key enablers of employee engagement. At their best, these strategic narratives are simple, meaningful and compelling. They convey a coherent rational account of the organisation and its journey, but also something with emotional and social appeal.
However, our view is that developing and communicating a strategic narrative is a necessary but not sufficient condition for creating engaged organisations. What most people miss, is the need to deliberately engage and align the organisation's 'mediating narratives'. These mediating narratives are the stories of the groups that make up the organisation, typically its different business units, functions and locations. They are important because employees' primary focal point of identity tends to be local (in other words their immediate team and the people they work with), not global.
On a day-to-day basis it's the 'gossip' of the mediating narrative, not the grand words of the strategic narrative that shapes employees' attitudes, behaviour and decisions. No matter how strong the strategic narrative, leaders who fail to influence the mediating narratives in their business are the ones who see their efforts to change the organisation get stuck in the marzipan layer of middle management.
If you'd like to know more about how to use storytelling to create meaningful engagement in large, complex organisations, you can find a comprehensive overview of the science of business storytelling, as well as new insights into how to make it work for your company, in a recently published white paper from The Pioneers. To download a copy, please visit: http://thepioneers.co.uk/white-papers/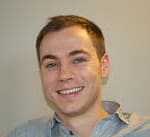 Author: Matt Grimshaw, Partner, The Pioneers
Matt is a Partner at The Pioneers, a people management consultancy specialising in management innovation, culture change, storytelling and engagement. Prior to setting up The Pioneers, Matt spent five years leading cultural change programmes, first as HR and Change Manager at DS Smith Plc and then as the Planning Director at The Storytellers.
Matt's genuinely passionate about finding ways to help people be happier, more engaged and more fulfilled in their work and the need to demonstrate the value that this brings to businesses.
When he's not running around after his three small children, Matt's invariably lost in a book trying to find the next big idea.