A huge thank you for making the launch such an engaging, interactive and thought-provoking event on Tuesday. We look forward to an exciting 2017 for EngageNE and we know that we can rely upon your continued involvement and support in driving engagement in the North East.
We all know that engagement impacts the bottom line, and exploring how to initiate an engagement strategy, how to motivate your leadership teams, how to implement a programme and how to maintain a culture of engagement will be the purpose of the EngageNE network and we can do this by sharing good practices, research and modelling excellence.
The following points came out of the open forum session, and we appreciate the open and frank discussions: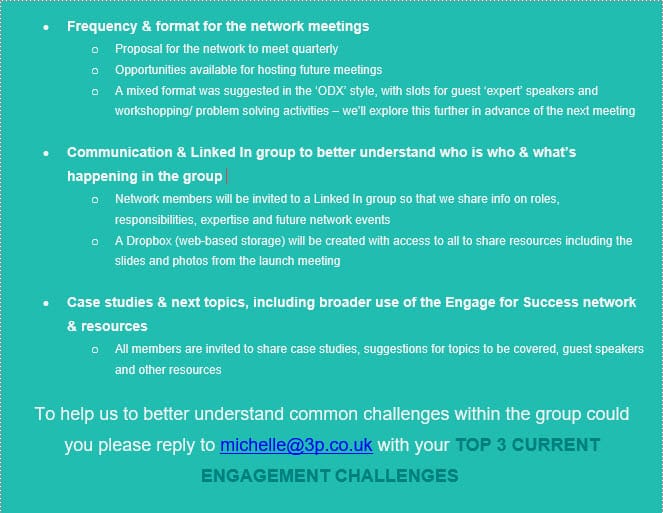 We'll send out further information in the coming weeks regarding the Linked In group and Dropbox facility, and will confirm the date for the next network event – let's get the next one booked in fairly soon to maintain some momentum in these early stages.
As we mentioned, this is YOUR network and we'd love to have ownership and engagement from all network members so we look forward to hearing your input and suggestions.
We're looking forward to working with you all over the coming weeks and months and to building a strong and supportive network to promote engagement in the North East and narrow that gap with Germany!!
In the mean time, if you want have any questions or want to get in touch, please contact us at michelle@3p.co.uk or kirsty@peoplegauge.com. We'd love to connect with you via Twitter so we can share the work of the network further so please link up with @info_3P and @PeopleGauge.
We'll look forward to hearing back from you with your top 3 current engagement challenges.