The show goes on(line) at the Greater Birmingham Engage for Success Network
The latest Share + Learn + Inspire event for the Greater Birmingham Engage for Success Network went virtual with great success this March.
With social distancing intervening, rather than going ahead with the usual network session face to face, seventeen members joined a group discussion using the ZOOM collaboration platform to discuss the ways in which the four enablers matter at times of uncertainty and crisis.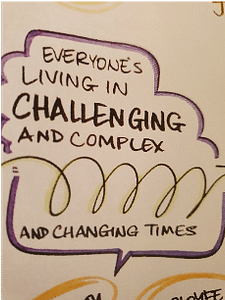 Colleagues said that now was the time to imbue your strategic communications with your values and to ensure your vision is reflected in the inevitably short-term operational discourse. That means you can hold on to your narrative even as the story changes around us.
Next up was the reminder to ask the audience and to keep channels open for employee voice. Members argued that becoming more personal at difficult times can help to encourage others to speak up and share their concerns and ideas – all good help in a rapidly changing landscape. As one professional explained their approach:
"Our CEO emailed all staff to ask for suggestions as we move to work from home this week. Both ideas for ways of working, and also simple fun activities we can do remotely to keep our company culture going."
That's at the corporate level but what about our managers? The main thrust here was that we can help managers by showing how products like ZOOM or Microsoft Teams or Facebook Workplace to name but three can help them to engage colleagues wherever they are.
Sealing the deal by maintaining integrity is the final and perhaps the hardest enabler to keep up at a time of rapid change. The group's conclusion was that communications and engagement professionals need to support the decision makers more than ever and help them to be brave enough to sometimes say, 'we don't yet have the answers but with everyone's help we can find them'.
And the Greater Birmingham Engage for Success Network put that into practice directly by agreeing to run another group video network before the end of the month. Watch this space for details and remember to help your own personal and professional networks to cope as we are all tested in these unprecedented times.
We're already planning the next event so if you want to get involved in a thriving Engage for Success network in Birmingham please email john Travers johnctrav@hotmail.com or call John on 07495 591525.