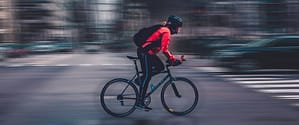 A study conducted by LEO, where over 1,000 London commuters were asked to share their thoughts on cycling to work showed that cycling to work can set you up for a good day in the office.
According to the study, cyclists are 20 per cent more likely to find their commute to be acceptable compared to those travelling by public transport. Over half the cyclists polled agreed that the time they spend commuting allows them to achieve a better work life balance, compared to a third of bus, train and tube users.
During bike to work week, commuters were encouraged to take to two wheels to see how changing up their commute can help benefit their everyday lives and improve their work life balance.
Taking the time in the morning to get some fresh air and get your body moving, can have a positive impact on the rest of your day.
Why not plan a fun route into work, there are some great cycle friendly routes, such as long the Thames where you can see the sights such as Westminster, the London eye and more!
Even if you don't own a bike, there are plenty of Santander cycle stations around the city, so you're never far away from being able to cycle your way to work.
Beth Hampson, Commercial Director at LEO, said: "London is an incredibly well-connected city, with our portfolio of prime-location offices across London situated no more than 200 metres from a Santander Cycle docking station. We encourage not only our customers, but everyone who would like to take up cycling, to make the most of London's dedicated cycle lanes, bike ranks, and cycle-friendly park routes this Bike to Work Week."