We have heard it over and over, the coronavirus pandemic has created a "new normal," especially in the workplace. Remote work and return from furloughs have made employee engagement and wellness particularly challenging.
According to a recent study conducted by the Society for Human Resource Management (SHRM), two out of three companies reported keeping employee morale up to be difficult during the pandemic, and one-third said maintaining company culture was a challenge.
Erin Lutes, Director of Human Resources for a US-based restaurant group, had this to say: "The restaurant industry has suffered a gut punch with the pandemic. Many of our employees are returning to work but still feel disengaged. We are looking for ways to re-engage to feel like a team again."
Virtual Reality (VR), Augmented Reality (AR), and virtual events are just some of the valuable tools companies are using to engage and energize their teams; and now a mobile app developer in Richmond, Virginia, is offering a new tool that challenges workers to hit the trails with a virtual walking app!
Walk The Distance is a step tracking app that offers a unique opportunity for employees to experience another part of the world, together, while simply walking to work, to lunch, through the park, on a local trail, or anywhere steps are counted.
John Zaccone, app developer and founder of Walk The Distance, realized his popular walking app could make a difference in this 'new normal,' so he expanded his program to encourage teams to get active, have fun, and interact together on a virtual hike of the Appalachian Trail. 
At nearly 2,200 miles, the Appalachian Trail is the longest hiking-only footpath in the world, spanning 14 U.S. states, from Georgia to Maine, and has more than 3 million visitors each year from all around the globe. "Walk The Distance allows walkers from anywhere in the world to experience this globally famous trail virtually," said Zaccone.
The app doesn't stop on the Appalachian Trail! Zaccone is releasing the entire Pacific Crest Trail soon, and plans are underway for the Continental Divide Trail (the final trail of the "Triple Crown" of hiking). Also in the works is the Coast-to-Coast Walk in Northern England.
In addition to hiking trails, virtual walkers can enjoy "walking the distance" of the Boston Marathon, national parks, and cities across the globe, including London, New York City, Beverly Hills, Paris, San Francisco, Barcelona, Madrid, and Rome – a virtually unique globe trotting experience!
So how can Walk The Distance help with your company's wellness and engagement programs?
The app uses smartphone steps to progress walkers virtually along the trail where they can see other group members and be notified when they are passed, or even better, when they pass a teammate. Individual and team progress can be tracked on the company-branded leaderboard. Make it a race for a little friendly competition.
Employers often provide incentives for reaching milestones and/or completing the entire trail. Country Bank in Massachusetts rewarded employees with donations to their favorite charities when they completed a Walk The Distance challenge. 
"During a time when we were not able to be together in person, Walk The Distance allowed us to stay connected and motivated right from our phones," said Jodie Gerulaitis, Country Bank's Vice President of Community Relations, "and it allowed us to be creative with our giving back initiatives when we were not able to volunteer in person. We had over 70 employees sign up which allowed us to donate $28,000 back to our local communities."
Yes, I know there are a lot of step tracking apps out there, so what makes Walk The Distance different? 
Zaccone and his co-founder and mother, Lisa, for whom he created the app (more about that later), have spent countless hours curating content to "bring the trail to life" for virtual hikers.
Zaccone explains, "along the trail, walkers work hard to reach "checkpoints" where they can experience the beauty and history of the Appalachian Trail through virtual shelters, signposts, photos, scenic points, and trail-volunteer information."
Walking apps, like Walk The Distance, not only help re-engage your employees, but they are also great additions to your company's wellness initiatives.
Did you know 70% of employees enrolled in wellness programs report higher job satisfaction than those not enrolled in the companies' program (Aflac, 2019); and according to a 2018 study by United Healthcare, 56% of employees had fewer sick days because of wellness programs.  
 The inaugural Health on Demand survey by HR consultancy Mercer and management consultancy Oliver Wyman, found the more options of health and wellbeing resources an employer offers, the more likely workers are to feel supported and energized, and the less likely they are to leave their jobs. Among surveyed workers who are offered 10 or more health and wellbeing benefits, 68 percent believe their employer cares about them, compared to just 44 percent of those offered five or fewer.
Now back to John and his mom, Lisa.
Walk The Distance was founded after Lisa Zaccone started a virtual race with her co-workers from Ann Arbor, MI to Chicago, IL. The group tediously tracked their miles and plotted their progress manually on a printed map. And their reward for completing the trek?- a real shopping trip to Chicago!
Doing those calculations every day for everyone in the office was a lot of work, so Zaccone asked her son, John, a software engineer, to create an app that tracked the progress of their footrace for them. John, an avid hiker, thought a virtual hike would be even better, so he coded the Appalachian Trail.
The Appalachian Trail was completely published in 2019, and in only four months, more than 2000 virtual walkers downloaded the app. That is about equal to the total number of thru-hikers (2,272) who successfully completed the actual trail in its first 50 years of existence. Today, the app has more than 10,000 active users on the Appalachian Trail and has a 4.9 rating in the Apple App Store. Walk The Distance works with both iOS and Android phones. 
Walk The Distance is a proud partner of The Appalachian Trail Conservancy and promotes health and learning through educational content along the trail. 
If you'd like to find out more, email John at walkthedistanceapp@gmail.com.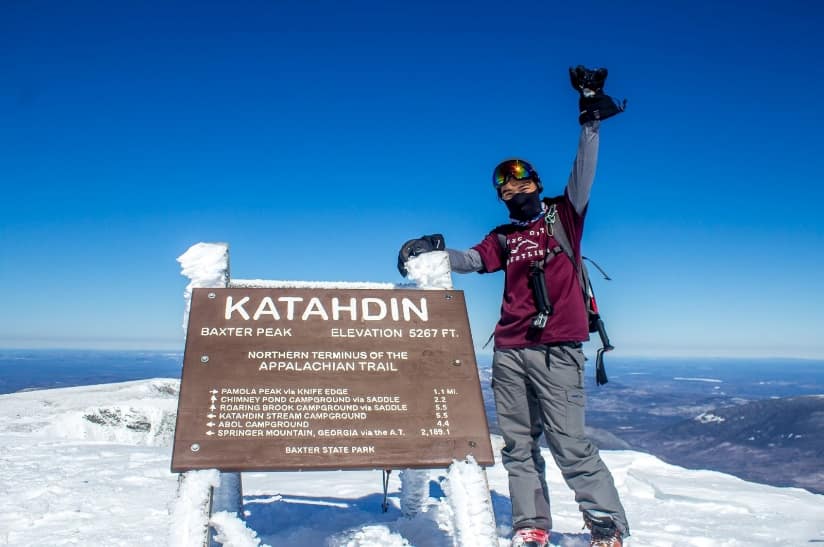 Author Bio: Kelly Galindo, Freelance Writer
Photo credit: Kalen Emsley on Unsplash