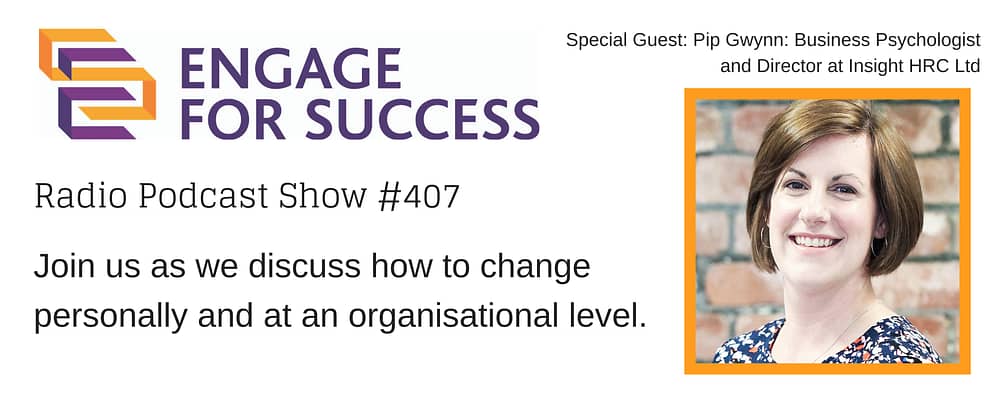 Special Guest: Pip Gwynn: Business Psychologist and Director at Insight HRC Ltd
Pip Gwynn is a business psychologist and director at Insight HRC Ltd.  Pip is an assessment specialist, using scientific and evidence-based approaches to understanding human behaviour in the workplace.  This involves working with individuals, teams and organisations to understand the drivers of behaviour, to harness existing strengths and to overcome barriers to change.
Pip's passion is in making organisations happier and more effective places to work through personal growth and culture change.   Pip believes that by understanding people better, we can develop ways to work that are engaging and motivational, rather than leading to increased stress and dissatisfaction.  The pandemic has driven huge changes in how we work, making many of us think about our priorities in life and what we want and expect from our employers.  As we look to the longer term, how can we build workplaces that work better for people?  Workplaces that are fairer, more inclusive and more flexible.  Workplaces with high levels of engagement and performance.  This will mean changes to behaviour and culture as well as changes to policy and process.
In this session, Pip will look at how to change personally and at an organisational level.  We will explore why creating lasting change is so difficult and what the evidence from behavioural science tells us about how to increase our chances of success.
Join us as we discuss how to change personally and at an organisational level.
Listen Live (Archive Available)
Host: Andy Goram