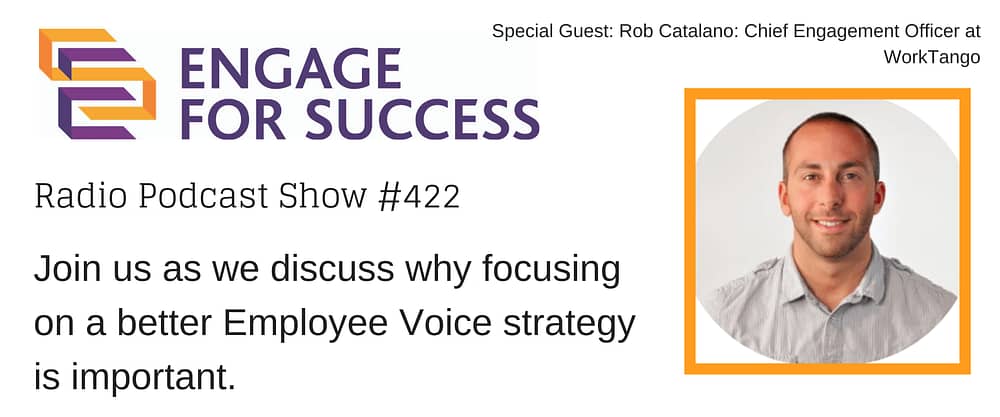 Special Guest: Rob Catalano: Chief Engagement Officer at WorkTango
Employee Voice is one of the four critical enabler of Engagement. Employee Voice is a crucial area deserving of both ingenuity and attention. In order to maintain a workforce environment where employees can be engaged and perform successfully, a new approach to hearing and acting on the voice of employees is being adopted by innovative organizations. In this session, Rob will talk about:
* Why focusing on a better Employee Voice strategy is important
* The evolution of Employee Voice, and why certain methods are outdated and no longer adequate on their own
* Proven effective methods and practical solutions to supporting an inspirational future of Employee Voice
* Examples of companies that are doing it well
Rob is the Chief Engagement Officer at WorkTango, and has spent the last 18 years consulting companies on employee engagement while building HR technology and advisory companies. He is the Canadian Chairperson for The Enterprise Engagement Alliance, with a mandate to lead and help educate corporate, government and not-for-profit management on a formal process for implementing engagement across the enterprise community. He is active in the Engage for Success movement, focused on raising the profile of the impact of employee engagement on employee and business success, and he was named one of the 100 Top Global Employee Engagement Influencers in 2020. He is an avid hockey and volleyball player, traveller, used to play guitar in a metal band, and in his own terms a 'pointaholic' – he collects loyalty points for everything and anything!
Join us as we discuss why focusing on a better Employee Voice strategy is important
Listen Live (Archive Available)
Host:  Jo Moffatt