Please note that events are moderated so there may be a delay between you posting it and your event being live on the site.

Radio Show #463: The role effective communication plays in driving business productivity and performance
17 October 2022 |5:30 pm

-

6:00 pm

BST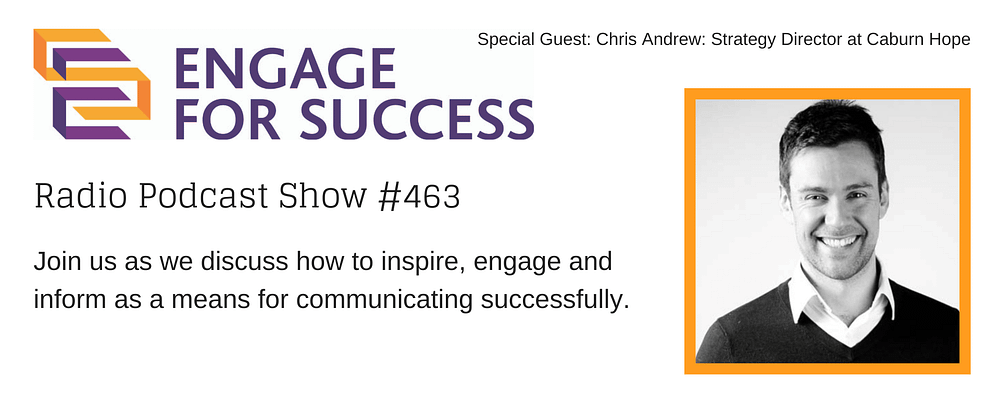 Special Guest: Chris Andrew: Strategy Director at Caburn Hope
Chris has been working in employee engagement before it was even a thing. He has a passion for brand, driving behavioural change and using effective communication to help influence the future of work. He has provided guidance across the employee lifecycle to senior leaders for a wide range of organisations, including Barclays, BT, Boots, Cadbury, Coca-Cola, eBay, 02, Pfizer and Unilever.
In this episode, we'll be talking all things employee comms. We'll touch on how to inspire, engage and inform as a means for communicating successfully. We'll also discuss how to drive sustained and meaningful cultural change in line with a business's strategy and objectives. It's one thing for people to be aligned with the goals of an organisation but how do you make sure that they're also inspired and emotionally invested in its future? Communication overload is real right now, so we'll provide top tips on how you can be bold and provocative and get your key messages heard above all the noise. Join our show to take a deep dive into creating inspiring communications that truly stand out. They get people excited, they make people feel proud. The outcome – a workplace that attracts and retains the best possible people for your organisation, where everyone feels valued and motivated to perform.
Join us as we discuss how to inspire, engage and inform as a means for communicating successfully.
Listen Live (Archive Available)
Host: Jo Moffatt
Related Events