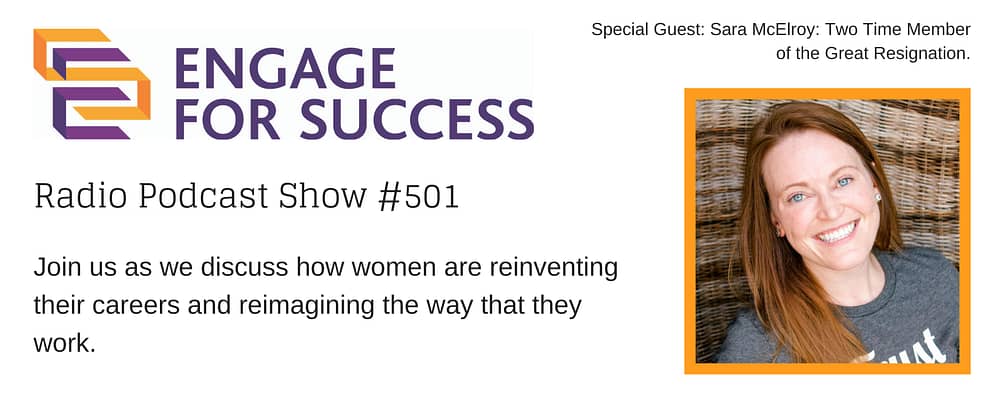 Special Guest: Sara McElroy: Two Time Member of the Great Resignation.
The past two years have brought unprecedented challenges for female professionals, including increased stress and pressure to juggle responsibilities at work and home, higher levels of burnout compared to men, lack of childcare, and more. As a result, the number of women actively wanting to quit their jobs has reached an all-time high. In fact, a new survey of 5,000 working women found that more than half of them want to quit their jobs within the next two years, and only 10% of them plan to remain with their current employer for more than 5 years. Sara can offer exclusive insights from her personal journey as well as what she learned from conversations with more than 125 women over the past year who are reinventing their careers and reimagining the way women work.
Sara McElroy is a former hustle culture devotee, ex-chief marketing officer, the Wall Street Journal's poster girl for pandemic career burnout, and a two-time member of the Great Resignation: class of 2021 and 2022. Following a stress-induced shingles diagnosis in early 2021, Sara decided to hit the reset button on her life; she quit her hard-won CMO job and trekked to Peru's Sacred Valley to reset her frayed nervous system. When she returned, she relocated from the buzzy metropolis of Atlanta to the beach in South Florida for a new job and a fresh start. But she once again encountered deeply ingrained cultural issues in her new role, and ultimately, she walked away again. Finding herself in the company of millions of other women who also set unfulfilling jobs ablaze during the Great Resignation, she returned to her journalism roots and began to explore the stories, breaking points, and defining moments that led women to seek greater opportunity mid-pandemic. These conversations became the genesis of Raze to Rise – an organization created to amplify women's voices from the Great Resignation and inspire others to blaze new trails in their own careers
Join us as we discuss how women are reinventing their careers and reimagining the way that they work.
Host: Jo Moffatt