Please note that events are moderated so there may be a delay between you posting it and your event being live on the site.

Radio Show #474: Impact of the Pandemic on Employee Engagement
16 January |5:30 pm

-

6:00 pm

GMT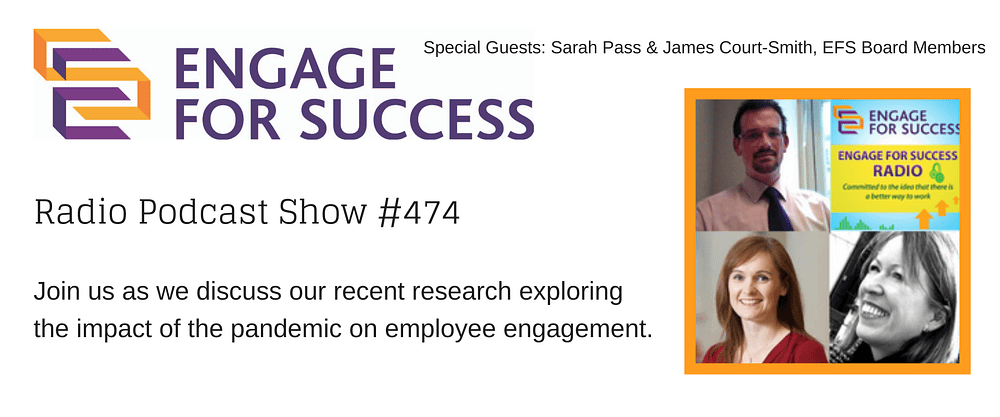 Special Guests: Sarah Pass, Senior Lecturer at Nottingham Business School Nottingham Trent University, EFS Board Member & James Court-Smith, Director at Stillae and EFS Board Member.
Dr Sarah Pass is a Senior Lecturer at Nottingham Business School (NBS) Nottingham Trent University, focusing on postgraduate and executive teaching.
Sarah Pass
Sarah is an Ambassador for Engage for Success and chairs the following Engage for Success groups; the East Midlands Area Network, the Line Manager Thought and Action Group, the Engagement Champions Thought and Action Group, and the Organisational Purpose Thought and Action Group.
She is also a member of the Advisory Board, the Steering Group, and the Core Team. Sarah is a Fellow of the Royal Society of Arts (RSA), a member of the CIPD, the British Academy of Management, and works closely with the Involvement and Participation Association (IPA) and ACAS.
Her main research areas focus on issues of employee experiences at work. For example engagement, meaningful work, good work and voice. She has published both academic outputs and practitioner reports in these areas.
Prior to working at NBS, Sarah worked at University of Nottingham, University of Manchester, Cardiff University and was a HR Advisor for the CIPD. Alongside her posts in academia, Sarah has undertaken consultancy work for the CIPD, NHS and public sector organisations.
James Court-Smith
At Stillae, James provides data-based consulting to executive teams -enabling constructive discussion and decision making in complex business situations.
Using analytics to make the most of organisational data, connecting multiple sources at a granular level to identify valuable insights and provide a holistic, integrated view of complex business problems.
Mining data for discoveries that add real value, and building models to provide concrete estimates and quantified business cases which are robust to challenge.
James has been involved in Engage For Success since contributing several case studies to the original MacLeod Report in 2009. He has been Senior Adviser to the movement since 2011 when he helped compile The Evidence Report. He personally completed the featured 4-year longitudinal study linking Employee Engagement to store-level KPIs at Marks & Spencer.
In 2016 James wrote the movement's Further Evidence report. He continues to be involved in several TAGs, serves as Chair of the Steering Group and as a member of the board.
Join us as we discuss our recent research exploring the impact of the pandemic on employee engagement.
Listen Live (Archive Available)
Host: Jo Moffatt
Related Events