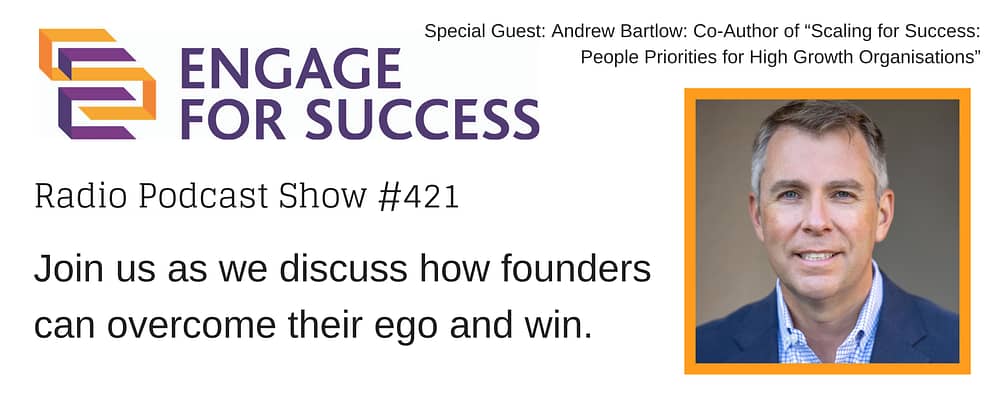 Special Guest: Andrew Bartlow: Co-Author of "Scaling for Success: People Priorities for High Growth Organisations"
After working with hundreds of start-up founders, Andrew has discovered that ego holds many of them from achieving true success. They often focus on irrelevant things that will make their company look good and forget about the most important foundational work. On the other hand, founders also want to meet (or exceed) the expectations – of customers, employees, end investors and that's great. The challenge happens when they start comparing themselves to companies that are lightyears ahead of them. Andrew would love to share real stories, from the field, of working with founders 1-1 to help them overcome ego, prioritize better, and achieve success.
Andrew Bartlow has 25 years of Human Resources and Talent Management experience at organizations across a wide spectrum of sizes, maturity stages, and industries. He is the co-author of "Scaling for Success: People Priorities for High Growth Organizations", has a master's degree from the top program in his field, and has been CECP, SPHR, Six Sigma, and executive coaching certified. Andrew leads Series B Consulting, which helps businesses to articulate their people strategy and accelerate their growth, while navigating rapid change. He also founded the People Leader Accelerator, which is the preeminent development program for startup HR leaders. He's worked with clients like Masterclass and many others to help them overcome obstacles in a hyper growth phase. For the first time ever, he wants to share his lessons on podcasts.
Join us as we discuss how founders can overcome their ego and win.
Listen Live (Archive Available)
Host:  Jo Moffatt