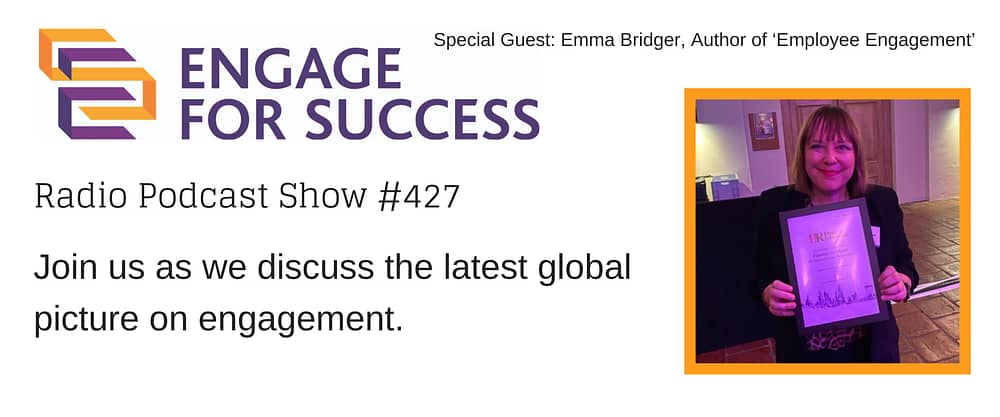 Special Guest: Emma Bridger: Author of 'Employee Engagement'
It's been 7 years since Emma Bridger's book -Employee Engagement – was first published. With the 3rd edition of the book just about to launch we catch up with Emma to talk about how the world of Employee Engagement has changed and is still changing, and why focusing on engagement is as critical as it has ever been. We'll catch up with Emma to talk about:
* The latest global picture on engagement
* How we're getting clearer on defining engagement
* Engaging in a covid world, looking at the increased focus on wellbeing, empathy and the need for psychological safety at work
* The evolving nature of tech and how to use to it to engage your people
* Focus on equality, diversity and inclusion and why it's critical for engagement
* The role of mindset, to look at personal accountability and how we can have some control over how we feel at work
* The rise of employee experience and how this can impact engagement
Emma will be giving away a few free copies to listeners as well.
Emma Bridger is one of the world's leading employee engagement and experience experts. She's passionate about working with organisations to help them design and create great employee experiences which empower people to be their best. She works with organisations to deliver high engagement, making a positive difference to organisations, employees and customers.
Emma has designed a range of employee engagement and EX courses, for the CIPD and others, as well as contributing to, and being published in the UK Government Review – Engage for Success. Emma now advises the Government taskforce on engagement as part of the "Guru Group". Emma is also a regular conference speaker and case studies detailing her work have been published in industry journals.
Join us as we discuss the latest global picture on engagement.
Listen Live (Archive Available)
Host: Andy Goram