A great internal comms team is optimized to get the most out of every single piece of content it creates. There's no need to reinvent the wheel for every communications channel you manage.
The best thing you can do to increase the return on investment of your employee newsletter is to re-use the content across other channels.
Re-using newsletter content has several advantages:
It's efficient, because the content already exists
External comms can use the content to support a PR strategy
Content marketing can use the material for their promotional efforts
HR, Philanthropy, and Diversity & Inclusion can also use the content for their comms projects, including company blogs and LinkedIn accounts
You get more bang for your buck
You gain new skillsets
An added benefit of re-posting content is to catch employees where they are, not where you expect them to be. For example, an employee may have deleted the newsletter without reading it, but she might catch the news on your Instagram account as she thumbs through the platform on a break.
QUICK CASE STUDY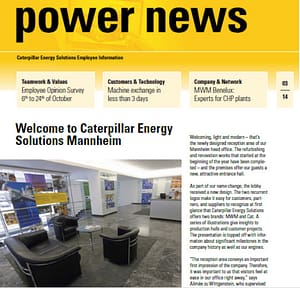 Three elements in the feature story above about an office opening for Caterpillar can quickly be re-used on other channels, without breaking much of a sweat.
Photography
Story (text)
Quotes
The photography alone can very quickly be deployed to several internal and external channels:
Digital signage across the globe, so employees in other offices can see the news
Instagram, with a nifty stat about the office opening
A localized employee newsletter; in this case, perhaps the Germany employee newsletter
LinkedIn, especially to advertise new job openings in that office
Twitter, with targeted local hashtags
The story itself is benign, so re-post it entirely on:
Corporate blogs and websites
Pro tip: Since this article is about an office opening in Germany, translate it for a localized company website
LinkedIn, again with job openings
Social ambassador programs like Dynamic Signal, to boost internal and external exposure
Corporate communications and Marketing should also get the content, so they can use it to promote external strategies.
For example, Comms may send the story to a local newspaper to promote the company's investment in the community.
The quote from the project supervisor can be used differently and uniquely for the same channels mentioned above.
Quote cards can be created for all social media and internal digital signage.
In a matter of minutes, you can take just one piece of your employee newsletter and explode it across many channels, increasing the return on investment for your time, energy, talent, and money exponentially.
In the above example, a simple story that appeared in one channel (the newsletter) has the potential to be used 10 other ways across internal and external channels – without much effort!
Just imagine what you can do with a more complex story! And just imagine what you can do with the five other items in that day's newsletter.
(The above snapshot comes from Caterpillar's Power News employee newsletter; source.)
Author Bio: Shaun Randol, CEO of Mister Editorial.Follow him on Twitter @MrEditorial.
Photo Credit: Pawel Czerwinkski on Unsplash