An MBA course will challenge a professional's ability to lead, adapt, and think outside the box, as well as equip them with all the attributes that make the ideal employee. In other words, it's the perfect way for businesses to motivate their staff to constantly better themselves without putting their careers on hold.
Furthermore, having MBA employees as part of your team can bring a whole host of positive effects to the company. With that in mind, we've taken a look at five reasons why employers should consider putting their employees through MBAs, and how they can profit from it.
Enhanced Management Skills and Techniques
An MBA will give your employees plenty of opportunities to advance their own professional skills and acquire new management skills – including strategic thinking and critical analysis, as well as in-depth leadership and management techniques. They'll learn all this from some of the most well-respected figures in the field.
This will be reflected in their career progression, because they'll be able to strategically develop their business mindset and learn a holistic business approach.
When these skills are put into practice, they'll be shared with the rest of the staff and will be carried throughout the entire company.
Excellent Interpersonal Acumen
While there's no denying that 'hard' knowledge is absolutely necessary in managing a team, employers shouldn't underestimate the importance of 'soft' skills either. In fact, managers must possess excellent interpersonal skills in order to inspire a team and work alongside them to achieve the common goal.
Group assignments like debates and presentations are core parts of the structure of an MBA, because such activities will allow professionals to build upon their interpersonal acumen. This will prove helpful when it comes to networking and interacting with industry experts alike – which leads us on to the next point.
New Business Contacts
The exposure to influential business elites attracts countless professionals to study an MBA each academic year. Whether it's their fellow classmates, tutors, or guest speakers, an MBA offers ample opportunity to meet like-minded individuals. With enhanced people skills, your employee can gain invaluable business contacts, from which you can potentially find new clients, customers, partnerships, and even investors.
This is by no means limited to contacts made within the campus. Study trips abroad can lead to additional relationships being built internationally in cities and countries with great business prospects, opening doors to development further afield.
Developing and Retaining In-House Talent
Employees are more likely to stay with a company when they're consistently given adequate room for growth. It's an employer's job to recognise and keep hold of exceptional employees, because failing to do so may result in top talent moving on – potentially to a competitor.
One way to show your appreciation for these employees is by presenting them with the opportunity to pursue an MBA through a Corporate Sponsorship scheme. By helping to fund an employee's MBA, you may be assisting them towards an ambition that may not have been possible without the financial support.
If nothing else, a company that is willing to assist an employee through their MBA will portray a positive brand image as nurturing and passionate about attaining the best talent in the industry.
A Worthwhile Investment
Having an MBA employee who can contribute up-to-date strategies towards your business plan will be beneficial to any company; hence why funding an MBA is a great way to secure direct return on your investment. In addition, since a wider network of staff will gain from working alongside a colleague who's learning new management skills, there's no fear of your investment going solely to the professional advancement of a single individual.
After completing an MBA, professionals can help solve existing and future problems in the business, streamline departments, and, eventually, boost profitability by putting their new-found skills and know-how to good use.
More information
The decision to put an employee through an MBA qualification may seem like a big step to take, but it's one that will propel your business ahead of the rest.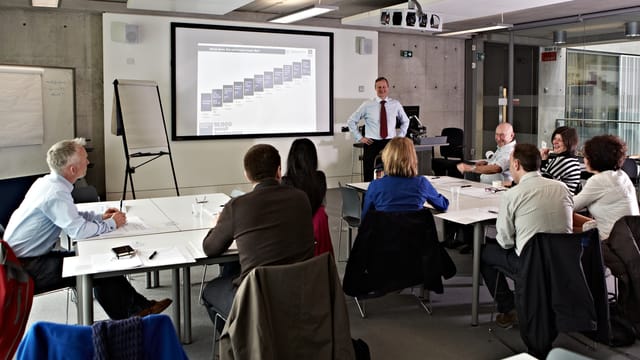 Oliver Long, Content Marketing Executive
Image courtesy of Oliver Long