Instant: Your office. Our Business
Instant was founded in 1999 to 'bring the fragmented serviced office market into one online market place'. Since then the company has grown rapidly both within the UK and internationally with revenues in 2012 forecast to exceed £26 million.
Much of this growth has been down to the highly engaged culture of 80 employees spread across its London, Miami and Sydney offices. Employees are given the freedom and autonomy to react fast to customer requests, to make suggestions and act on improving Instant's processes.
Employee innovations have led to new products and services and driven growth rates to over 100% year on year.
Employee-led innovations
Outsourcing the Provision of Offices to Instant – In 2006 an Instant employee suggested that they create a new line of business offering customers the possibility of outsourcing the provision of offices to Instant. This new service proved so popular that today it is the largest revenue driving part of the business. In 2011 it accounted for £18 million in revenue alone.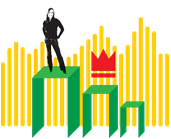 White label Service for Customers – an office sourcing platform operated by Instant but displaying the customer's branding and linked directly through the customer's own intranet. Instant is able to monitor the traffic/enquiries on the platform and can offer the customer enhanced service as a result. This initiative was rolled out to other customers and has become very popular with customers.
Intermediary Services that Guarantee Confidentiality – realizing that one customer needed complete confidentiality when looking to expand overseas, an Instant employee suggested they offer to act as an intermediary. Instant then took 100 leases on offices around the world on behalf of the customer. Instant later offered this service as an enhancement to existing customer offerings.
Tech-Platform Evolution – Instant's tech platform and customer interface has continually evolved over the past ten years directly as a result of employee innovation suggestions. These suggestions are rooted in how to better serve customer's needs through the tech platform. Innovations have included enhancements to entire new products. As a result, every year there are approximately 500 new refinements or add-ons, the system has a new release each month.
Instant's Initiatives to encourage Employee innovation
One-on-ones with the CEO – 6/7 people randomly chosen who meet over lunch and brainstorm how to do things better,
Weekly CEO 'Question time' with small groups (6/7 people) where the floor is open for any question. These ensure that employees feel they are important, understood and listened to. They also create a forum for debate amongst people from different parts of the business.
'Tragic to Magic' – a forum where employees brainstorm/make suggestions about how to improve things that Instant does – this has resulted in fixing small things to setting up a brand new business or launching a new product/service.
'Dragons Den' – individuals volunteer to join a random team and then go away to brainstorm ideas then come back and present them as a team. About 50% of the company has taken part. There have been lots of little ideas generated but also one or two new businesses.
'Hot House' – a forum for individuals to generate ideas. The only issue is that often individuals feel inhibited to stand up in front of others and present their ideas.
Take Aways to build an engaged culture…
Some aspects that build Instant's engaged culture –
Personal Development: always find ways to promote talent either upwards or sideways including to another country rather than lose people.
Fun Environment: maintain high energy levels, light heartedness and optimism in an informal setting so that employees feel comfortable enough with line managers that they offer suggestions. This includes fun nights out, trips abroad, fancy dress – whatever it takes to level the organization.
Listening Culture: Ensure Everyone Feels Important and Listened to: regular meetings with the CEO and senior team.
Common Goals: Moving away from Earning and Profit to embrace sporting challenges and charitable giving initiatives.
…Leads to public recognition and reinforcement
Instant has been named one of the Sunday Times Top 100 Best Companies to Work For in 2009 and 2010, HR Excellence Awards 2008, and Best Companies 2 Star Accreditation 2010, amongst others.