Business Culture Connected conference at Lord's Cricket Ground – an Engage For Success sponsorship
Engage For Success's Jo Moffatt chaired a day entirely focused on the topic of organisational culture. With the seismic shift the world of work has experienced over recent years, and with toxic culture never far from the headlines, this was the ideal time to come and hear from industry leaders as they shared case studies and insights on culture, exploring the topic from all angles with the theme of the day 'from hybrid to connected.'
The event brought together thought leaders from across a range of sectors and an audience of business leaders all keen to learn from the quality speakers across the day.
Jo opened the day by giving us some important definitions of culture, my favourite of which comes from Jo herself, "Culture is what makes workplaces work." She also set the tone for the importance of strong leadership with John Amaechi's warning that "culture is the worst behaviour a leader is willing to tolerate."
key highlights from the day
Jane Nicholson – DOP, Berkshire NHS Foundation Trust shared the Trust's journey in creating and embedding a 'Just and Learning Culture' – which is a new way of thinking about how the NHS learns and grows when things go wrong, by asking 'what has happened', not 'who is to blame.' Psychological safety is at the heart of this as well as a need to reduce the inequalities that exist for the NHS's BAME workforce.
We continued on a medical theme with Jenny Heals from the British Medical Journal and Louise Myson from Coode Associates, who took us through the BMJ's cultural transformation. They reminded us of the importance of leadership living and leading any culture change – without strong visible leadership who walk the talk, true culture change can never happen.
We were then treated to a keynote from the acclaimed keynote speaker, author, podcaster and technology leader – Bruce Daisley. Bruce shared his five workplace trends for 2023 and how great culture will adapt to them.
He reminded us of the importance of external and internal promises being aligned, i.e. don't say one thing publicly about your culture but fail to deliver inside, people will soon see through it. He said that, for him culture is about being cohesive and transformational, not transactional – culture must never become a "highway code." Listen to our own EFS radio show here for more words of wisdom from Bruce.
Openreach were one of the winners of the Business Culture Connected Awards. Their Head of Programmes – Danny Kirwan (overall winner case study, "Transformation and change with our culture principles at the heart') – shared Openreach's story of transforming culture from a command and control paternalistic, to one of accountability and empowerment – with great results to prove its success. Danny advised, it's not so much the words that mattered, but the journey that was most important. He recommended a 'co-creation' approach – working with your people to shape the hallmarks of the desired culture, making them feel like they own it, and then launching it in the style of the culture you want to create. Their results saw a leap in NPS, proving the link between internal and external engagement – which is so important in continuing to fight the case for why an engaged workforce really matters to the bottom line.
A panel debate after coffee discussed innovative talent approaches, and highlighted the importance of a robust Employer Value Proposition to make sure organisations are recruiting and retaining the best talent. The panellists reminded us that organisational values need to be authentic, so that what we say we are, what people say we are, and what we are, align. This of course plays to Engage for Success' 4th enabler, 'organisational integrity.'
Attentions then switched to one of 2023's core themes – DEI. Kevin Schou from Takadu UK, told his story of how the shocking murder of George Floyd was a catalyst for his company to stop DEI being a 'side of desk' initiative and put it central to their business. As he said, "the cost is high without DEI." It should be front of mind for everyone.
Katie Whyte from Lloyds Banking Group shared their story of new organisational values and the importance of employee voice in shaping them. Theirs was a classic tale of too many values and too many behaviours, which their people struggled to recall. An employee listening exercise on an epic scale ensued, engaging with 33,000 colleagues. The result – a truly authentic set of employee consulted values and a framework of behaviour to shape and drive a high performing culture. "Practice makes permanent" – a phrase we will gladly adopt at Engage for Success!
The afternoon sessions were made up of several high energy panel debates. The focus of the first was on the importance of developing a coaching culture for high performance teams. The 3 As of coaching were proposed as a useful lens through which to structure coaching – 'Aspiration, Ambition, Actions.' We were reminded of the importance of getting leadership buy-in to the importance of a coaching culture, and how sometimes they might need to be reminded to simply listen. There was also a great idea offered of coaching in nature – going for a walk to talk. Simple ideas for maximum impact.
We next focused on how to create a unified culture across disparate and scaling organisations. We learned that through rapid change, three things were important – 1) systems and processes (the practical things), 2) upskilling of middle management, and 3) collaborative leadership. We were reminded again, and it's important to keep repeating it – that you've got to action what you are hearing. Survey fatigue IS a myth, it's not acting on it that causes the fatigue. Bravery, adaptability, respect, the 'moments that matter', and making small behavioural changes were the ideas that stood out. Don't be afraid to empower your people.
Finally, we looked to the future and AI, how people and technology co-exist now and in the future. Despite the startling fact that AI is a billion times more intelligent than Einstein, we were assured that we probably wouldn't all be replaced by AI versions of ourselves by the next conference! Instead, we were encouraged to embrace and use new tech to enable, support, and enhance, not replace. It's about thinking differently and acting differently to use AI to make meaningful change. Our unique human skills will change over time, and we will eventually need to redefine what we think of ourselves as humans – for example, our quirkiness, our unique personalities, our compassion.
It was left to our chair to close. Jo counselled us to take a leaf out of Engage For Success supporter, Sir Eric Peacock's book of business. To take what we had learned today and to "steal with pride, adapt with glee, pragmatically implement."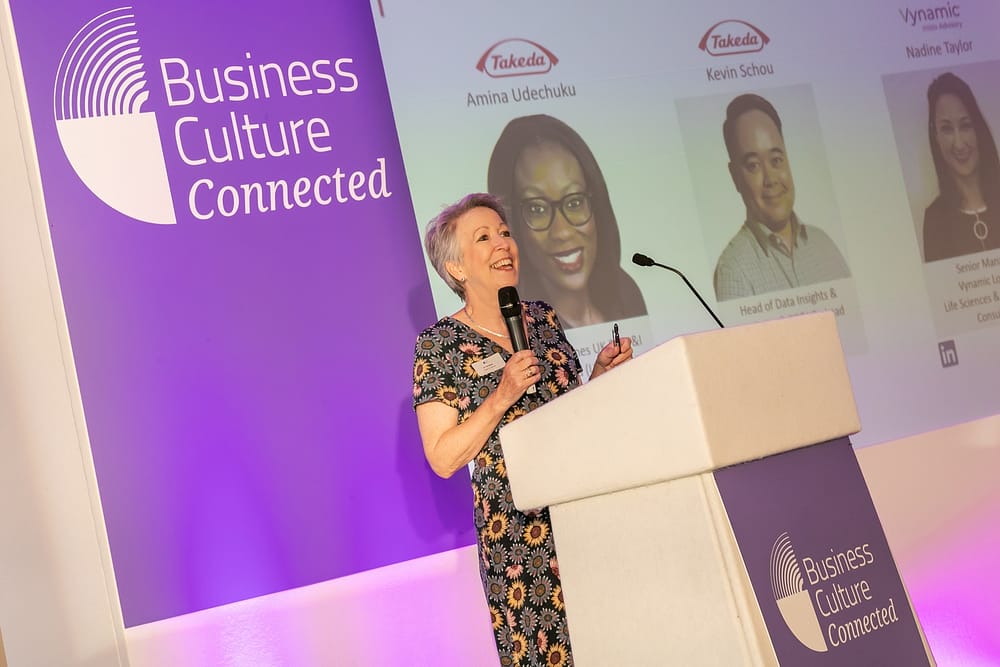 All in all, a great day, in a great location, and with some great speakers and sponsors. Howzat, Business Culture Connected? You hit the event for 6, and then some!
Author: Charlotte Dahl – Creative Planning Director, Woodreed & Engage For Success volunteer.