Companies nowadays strive to offer potential employees more benefits in order to appeal to them. For businesses to attract and retain top employees they need to compete with rival companies in terms of what they have to offer the individual. More and more businesses are offering benefits such as flexi-time and working from home, so now in order to really stand out, they need to offer more than ever before to be 'that' company to work for.
As well as businesses bearing in mind what they need to do to attract employees, job hunters also need to think about what benefits would particularly suit them. For example, if you have a dog it might be particularly useful to you to work in a dog friendly office so you don't have to worry about rushing home to make sure they're ok, or paying for dog care while you're at work. Or if you're particularly interested in fitness, it may interest you to apply for a role at a company where they offer wellbeing and fitness programmes.
Our latest infographic from Unum explores which benefits are offered by the world's top employers, taking a look at some of the largest companies in the world, such as Google and Apple. It might interest you to find out that while Visa doesn't offer flexible working hours or free food and drink, they do offer volunteering days, while Netflix doesn't. Take a look at the infographic below to find out which companies offer which benefits, and what particular ones would be of interest to you.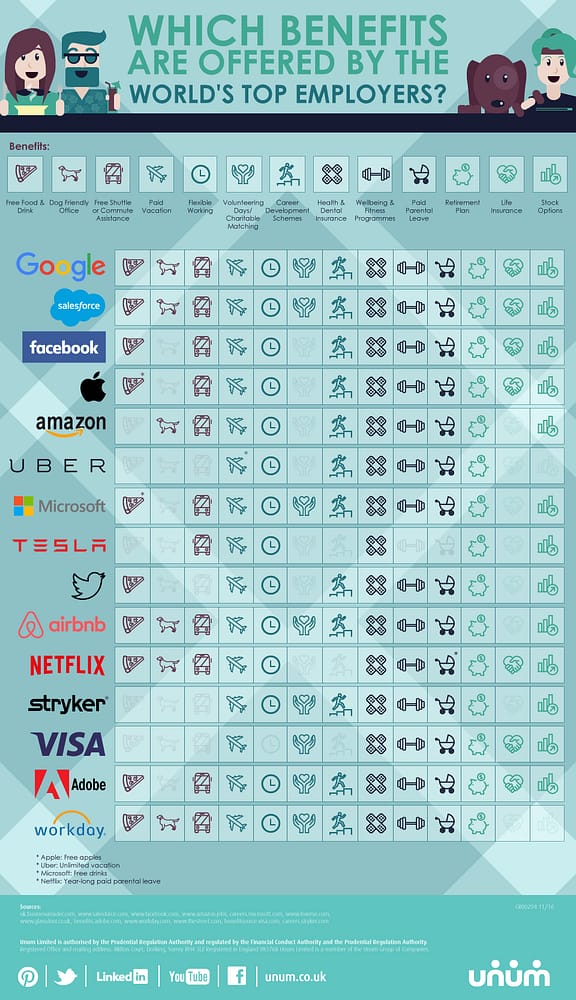 Will Bridges, Unum
Image courtesy of Danilo Rizzuti at FreeDigitalPhotos.net