Who doesn't love a good employee engagement story? We're not talking flash mobs, a puppy carrying a ring or relationships on the work floor at all, for that matter, but rather how engaged your employees are with your company and its values. The kind of engagement that benefits not only individual workers, teams, and management, but also customers and stakeholders.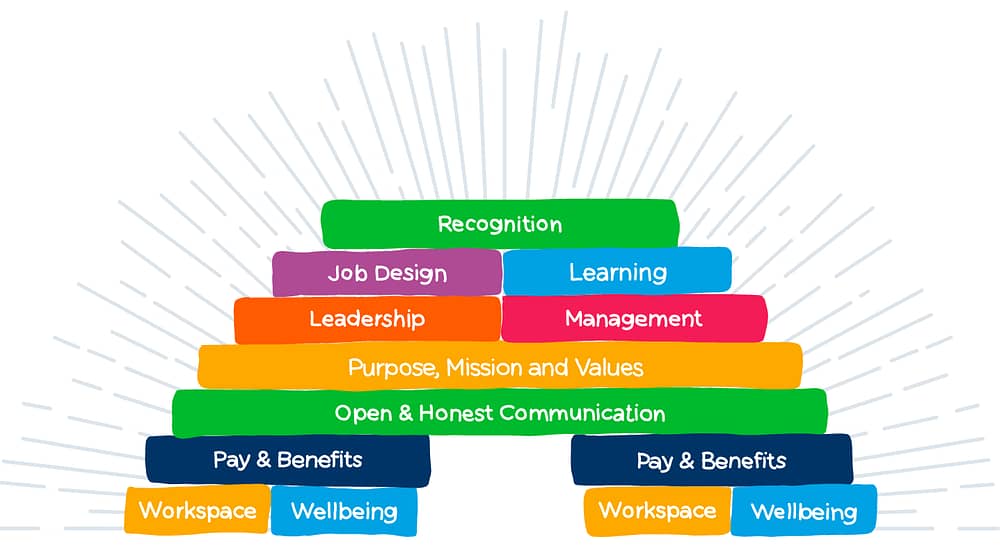 Photo Credits: Reward Gateway
A higher engagement, a better business
A highly-engaged workforce has proven to be more successful in many ways. When comparing teams, the most engaged ones turn out to be 21% more effective and generate 22% higher profits. Now that's an investment worth making, right?
Engaged employees take fewer sick days, and help raise customer satisfaction. We could keep listing the benefits of employee engagement, but we'd rather get to work: how do you improve employee engagement and with that your business?
Measure current engagement
Knowing where you are, helps you in finding where you need to go. When improving anything, it's key to analyse the current situation first. You'll have a hard time measuring the increase of engagement if you don't have a benchmark for reference.
Want to know how engaged your workers are? All you have to do is ask! Conduct employee management research amongst all your employees, including management to get insights into the current status. You can easily collect all the data by making an online survey – lowering the barrier for everyone to participate.
From here on, you can work on improving employee engagement. We're going to give you some practical tips on how to do just that, together with some survey questions to give you a better insight into what employee engagement should really be about. Let's get started:
How would you describe the values of our organisation?
Would you refer someone to work here?
Do you have fun at work?
Coach leadership
Improving employee engagement will be impossible without looking at who's leading them. Management plays a big role in improving company culture and engagement: if a manager is engaged, her or his team is more likely to be engaged too.
Who has moved into leadership roles and why? How is this perceived by their subordinates? Coach management into becoming better leaders, but also listen to them. Equip them with enough education, tools and, most of all, time to work on engagement.
This starts at the onboarding process for new employees but works its way through feedback sessions and even the letting go of workers. Make sure that in every aspect of work, empathy is present.
Questions to ask:
How frequently do you receive praise from your manager?
Do you feel like the management team here is transparent?
How would you describe our company culture in 3 words?
Challenge employees by listening to them
Your employees might not appear as motivated as you want them to be. Consider that you might be looking at motivation for the wrong thing. There's always something that drives people, but most of us put our own ambitions and aspirations before our company's. And can you blame us?
Some of the most important attributes that employees value about their job are the existence of opportunities for advancement, training, and a clear career path.
By figuring out what your employees want to achieve and how you can align this with the goals of your organisation, will ultimately motivate them. Listen and try to understand what drives them, and then figure out how you can challenge them in this – keeping it interesting for them to work for you.
Once you understand what your employees want to achieve, you can set them up to be in a place to deliver on it. This will give them the incentive to work hard for you in return, achieving the mutually beneficial goals at hand.
Questions to ask:
How clearly do you see your career or promotion path at this company?
If you were to quit tomorrow, what would your reason be?
Do you see yourself working here a year from now? Explain your answer.
Trust your teams
Does an employee want more responsibility? Give it. Challenge them, and in that set an example for others. The ''trust is earned'' approach is slow, and in the time it takes, can raise irritation with employees who obviously have the best intentions – but are forced to wait for more responsibility.
Speed and agility are what sets successful businesses apart from others, and that means that taking risks should be on the table. By empowering employees to make their own decisions, you give them space to either win and lose on their own, which can drive their motivation to simply do better. It's also a way to quickly learn where the strengths and weaknesses of your employees lie.
Questions to ask:
How valued do you feel at work?
Do you feel comfortable asking for more responsibility?
Do you feel like you are performing in a role that fits your knowledge and experience?
Focus on feedback
Feedback and engagement go hand in hand. That goes for giving and receiving feedback, in every layer of the organisation.
Be consistent, candid and kind in giving feedback. Don't just organise feedback rounds when something (almost) went wrong, but also speak up when it went right.
Also, be open to receiving feedback. Actively solicit feedback from your employees and show that you actually care – only if you really care, that is. If not, employee engagement is the least of your worries.
How comfortable do you feel giving feedback to your supervisor?
Do you feel that you receive feedback often enough?
What field would you like to receive more or better feedback on?
And…Action!
Just sending out the survey and asking the right questions is not going to cut it. When you are done listening, whether that's to your employees' big dreams or their critical feedback, it's crucial to take action.
Take a moment to explain to your employees what you are going to do to improve and implement what you've talked about. This reinforces your message and makes it harder for yourself to lose track of what you were actually trying to accomplish here, even if the daily tasks sneak up on you.
Author: Fergus Taylor, Typeform.com
Photo Credits: Austin Distel at Unsplash