A survey from Enterprise Technology Research shows that the number of people permanently working from home is expected to double from the number observed pre-pandemic. For leaders, this will mean that more of their team members may be working outside the organisations' four walls. They will need to adapt to this new dynamic while still meeting production goals.
Many will be looking for leadership insights into how to support their remote team and ensure projects get completed and goals are met. Here are some tips to help you become a more supportive leader.
Communicate actively and effectively 
Listening has always been an important skill for leadership, but it takes on a new meaning with remote staff. It's much easier for employees to hide behind a screen if they are struggling or feel unheard and unseen as they work on projects. Leaders can promote active communication by asking for opinions or ideas from staff in video meetings or one-on-one video chats.
Depending on how directly they work with the staff, leaders may need to determine how often communication is needed. For instance, a CEO might only need to make a direct speech in an online meeting once a month or weekly while a direct supervisor may be expected to speak with staff daily.
At the same time, leaders must make sure they communicate critical information to their employees promptly. When a new policy is instated, they may send out an email to their staff, but follow-up with a video meeting or phone calls to each staff member is also important to get their reactions.
Establish more realistic team goals 
Not all goals are set in stone, such as getting a huge project completed. However, within that project may be multiple goals that can be set by the staff instead of being determined by the leader. For example, staff members may decide on the steps necessary to accomplish the goal or how to divide up a project.
Studies show that employees become more invested in their work if they feel they have ownership. Leaders foster the growth of their staff when they encourage them to take responsibility in setting goals to reach the ultimate goal.
Leaders can also work with their team to develop personal work goals that help them succeed. As they work together to identify issues they may face in working remotely, leaders can assist workers in developing a plan to deal with those problems.
Prioritise your team's physical and mental well-being
Even though the notion of working from home can bring about positive feelings for staff members, the downsides cannot be overlooked. It's all too easy to keep working on a project until it's completed even if it is in the middle of the night. Leaders can encourage their staff to establish an end-time for work or to take time off for a mental health day.
For some employees, the danger of overworking can be all too real. They may find it difficult to separate their personal life from their job. Others may feel isolated because they don't have the interactions they once enjoyed when working in an office.
A leader can show support to their team by checking in. They can initiate a chat message or phone call daily or weekly as they see the need. Leaders can encourage the employee to take time away from work and respect their personal time by not calling or texting.
To avoid social isolation, the leader can coordinate get-togethers over video or even in person. Organised virtual happy hours or team lunches are great ways to unplug, de-stress and wind down from the workday. Mix in-person meetings with virtual events to increase participation and better meet the needs of your staff.
Recognise the need for flexibility
When everyone works in the same office, you can expect to have one set of rules that works for the entire department. With remote workers, the need for flexibility increases. For example, instead of each staff member working from 9 to 5 as they would in the office, some employees may be more productive if they start their day at noon and work until 9 at night. Others may need the flexibility to schedule team meetings around when their significant other or roommate is away.
Employees are more likely to perform well when leaders support their need to have a flexible schedule. Businesses can also benefit from workers who are able to stay focused on their jobs and work at their prime time.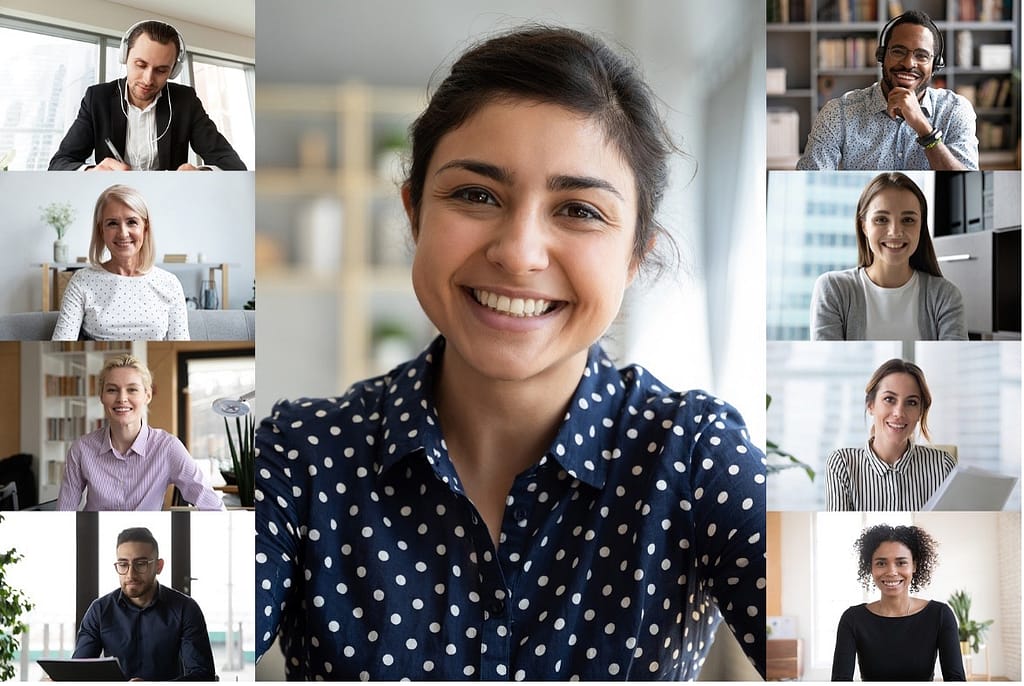 Set your remote team up for success 
This may sound like a no-brainer, but it can easily be overlooked. While leaders will provide passwords, software and special equipment necessary for the employee to work from home, they may overlook some of the basics. For instance, managers may assume that employees have a decent computer or laptop and a fast internet connection when their device is outdated and slow.
Rather than complaining about their old equipment, employees may replace their workstations altogether— incurring significant independent costs. Management can be supportive by allocating funds for employees to transition to remote work. This may be a one-time purchase or an account for use whenever a remote employee requires work-related gear or products.
Fix technical issues fast 
Though many organisations have their own in-house IT, the department may not be large enough to handle the added challenges of remote work. You can expect a learning curve for employees who are adapting to working from home. During this phase, they may have more questions than normal or require added assistance.
Make sure you have enough tech support for problems that come with getting set up, accessing company software and other issues that arise with remote work. Some of this support may come in the form of advice rather than hands-on assistance. For instance, an employee may plan to buy a new laptop to work from home. They could use the advice of IT to help them determine what specs they need in a device to connect to their work system.
Seek out your own circle of support as a leader
As more companies make the move toward permanent remote work, leaders will face challenges they are unfamiliar with. Don't hesitate to seek out mentors, conferences and classes to help you learn about managing a remote team and valuable leadership advice.
Find more inspiration from Topic Insight's articles on leadership and the changing business landscape. Discover your true potential as a leader and how to respond to the inevitable challenges you will face as you adapt to a new way of working.
Author bio: Ralf Quellmalz is the co-founder and leader of Topic Insights. Topic Insights encourages subscribers and readers to embrace a beginner's mindset – one of curiosity, gratitude and a strong desire for personal growth.
Photo Credit: depositphotos