On Friday 23rd May, 2014 the Engage for Success Cross Cultures Thought and Action Group (TAG) hosted 'Engage the World' event. There were a number of keynote speakers and the event had a great turnout.
While employee engagement continues to be a priority, many UK-based multi-national organisations, as well as those embarking on geographic expansion, are seeking answers to tough questions, the event on Friday 23rd sought to answer the following questions: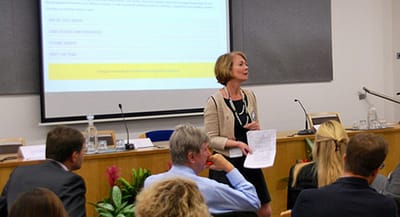 What are there keys to consider when driving engagement in certain geographies or cultures?
How do you build a "glocal" engagement strategy that strikes the balance between global priorities and local needs?
What is the role of culture in shaping an engagement strategy?
How do you reconcile differences in culture, geography, and manager capability when crafting your engagement strategy?
Paul Nuber VP, Fortune 50 organisation spoke about human balance, he discussed whether expats even understood the word culture. He stated how gender, ethnicity balance probably equated to human balance.
A panel of experts took part in a Room 101 exercise and gave examples of what they most disliked about approaches to increasing international engagement and communications. They then focused on the positives and gave examples of best practice – a write up of the session can be found here.
Gina Eckart (image on the right), senior consultant at centre of creative leadership discussed global leadership and engagement.
The full details of the content of the event and the answer to the above questions as well as general outputs from the event can be found in this presentation here.
For those who attended, other images from the event can be found here.