Peter Cheese will be speaking at this year's Engage for Success Conference, 22 March 2018.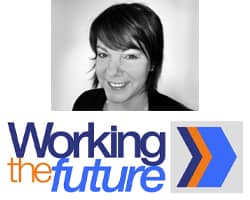 I first heard Peter Cheese speak in the summer of 2016 when he gave a talk about the future of work to the Association for Business Psychology at the University of Westminster. It was a crowded room in which you could hear a pin drop for the best part of an hour. I'd already started exploring the future of work as a topic of interest, but Peter's 'human' angle was riveting and, for me, it was a seminal moment that led me to set up Working the Future.
Peter's interest in the human angle of the future of work is unsurprising; as CEO of the CIPD he is the strongest advocate for people management and HR best practice. With the multiple complex and converging challenges that are starting to impact both our workplaces and how we work, we need leaders who can both succinctly define those challenges and present a future that is human-centric, without denigrating the advantages that emerging technologies and new working patterns will bring. Peter is a hugely compelling speaker and outlines the complexities of the future of work whilst presenting a future vision that is both positive and hopeful.
Effective employee engagement is contingent upon workers feeling motivated and enthusiastic in their work. We know that hopefulness plays a significant part in the psychology of positivity, and so we are looking forward to hearing what Peter has to say about the future of work. His insights will undoubtedly enable us to vision future possibilities that drive rather than detract employee engagement, and for engagement practitioners, help reenergise engagement initiatives.
As business management guru Peter Drucker infamously said, 'The best way to predict the future is to create it.'
Want to find out more about the embracing the positives – then come and Peter Cheese at our conference on 22 March!
Book your ticket now: www.engageforsuccess.org/2018conference
---
Written by:
Cathryn Barnard, Working the Future and Virtual Content Team Volunteer
@workingfuture1 | www.workingthefuture.com
---
Would you like to join our Virtual Content Team? Email sian@engageforsuccess.org to find out more!