Are you experiencing:
An increase in customer complaints?
An increase in staff sickness?
An increase in staff turnover?
These are just some of the signals that indicate there is something wrong.
How many Executives would consider their company culture as a root cause and worthy of attention?
Executives are unlikely to appreciate the strategic imperative and bottom line benefits to be gained from a focus on company culture. Whilst they concentrate on process, technology and head count to manage costs, they ignore the invisible. They ignore their company culture.
Culture costs – a client recently identified that their culture is costing them approximately £1.4m a year, in one Department!
When a company culture is toxic – the cost is eye watering in so many ways.
So how do you grab the attention of your Executive Team?
You make the invisible, visible.
You provide data that grabs their attention.
You help them to identify the cost of culture in your company.
Here's two methods that we use:
Employee Engagement: at My Change Expert we firmly believe that is it your people who grow your business. Your employee experience becomes your customer experience. Many businesses measure their staff satisfaction, their employee engagement. Gallup identified that every disengaged member of staff costs you 1/3 of their salary.
Using your staff survey results, you can now calculate the cost of your business culture, simply and effectively.
7 Significant Signals© – we have developed a simple diagnostic that provides a RAG (red, amber, green) report for your company culture. We encourage you to invite each Board Member to complete the 7 Significant Signals© and to bring their report to a board meeting. Facilitate a session so that they can openly share and explore their RAG rating for each of the 7 Significant Signals©. It is even more powerful if you compare Exec RAG ratings with those of their direct reports and throughout the management structure.
This simple diagnostic opens up the conversations and exposes both the reality and the impact of the existing culture.
7 Significant Signals© encourages Executives to dig deeper and calculate the bottom line impact from a focus in culture change.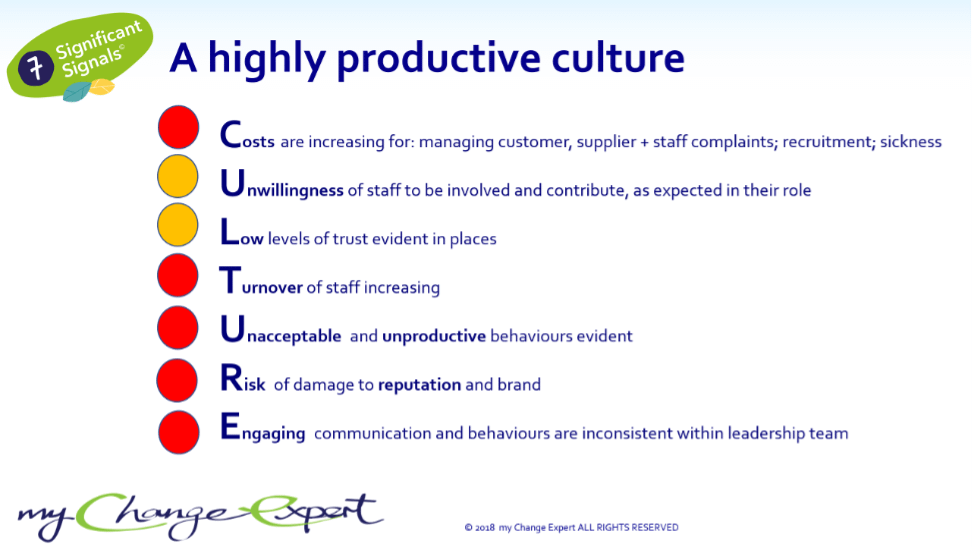 Many believe that culture is the soft aspect of business, the reality is that it is the hardest thing to change. What are your warning signals telling you about the impact of your company culture?
A Highly Productive Culture is achieved when "leaders and managers create an environment where individuals, teams and the company thrive and grow"©
This article shares some of the techniques we use in the Survey the Landscape phase of our Framework for Growth. To explore how to create your own Highly Productive Culture with the resources you already have, here is a video of the session that was hosted by the CIPD in September 2020.
Need to find out more? Then please do not hesitate to contact us. Contact Fiona Anderson; CIPD Committee member; Engage for Success Steering Group Member; Founder of My Change Expert and valuingYOU for further details, fiona.anderson@mychangeexpert.com