Mae'r dudalen hon ar gael yn y Gymraeg / This page is also available in Welsh
"People who love what they do – do it better" – Engage for Success Wales 2017
On 17 October I was privileged to be asked to Chair the first Engage for Success Wales conference at the Pierhead Building in Cardiff. 150 participants drawn from the private, public and voluntary sectors spent a morning looking at the MacLeod and Clarke Report and hearing case studies from organisations across Wales. These explained how the four enablers of engagement have helped them improve, involve, engage and empower their employees.
The four enablers of engagement
Visible, empowering leadership, providing a strong strategic narrative about the organisation, where it has come from and where it is going.
Engaging managers who: focus their people and give them scope, treat their people as individuals, coach and stretch their people.
There is employee voice throughout the organisation, for reinforcing and challenging views, between functions and externally, employees are seen as central to the solutions.
There is organisational integrity – the values on the wall are reflected in day-to-day behaviours. There is no 'say-do' gap.
As Chair, a number of key messages resonated strongly for me as we continue to take forward our Academi Wales 'Leading by Choice' campaign (external link) for 2017-19.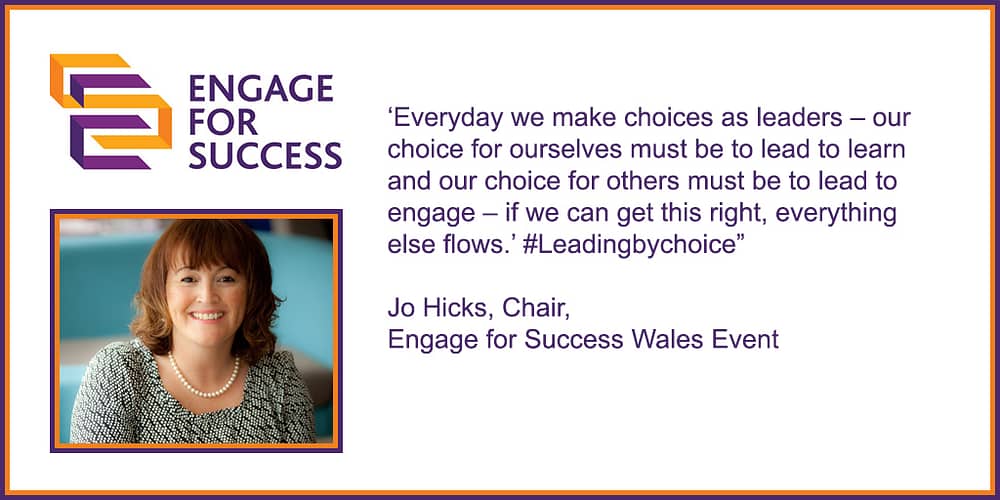 Engagement can only work if we connect with people's hearts and minds from the very beginning. It cannot be a surface-level mechanism that is written into a strategy paper and never given a narrative or life of its own. John-Mark Frost, District Manager for the Department of Work Pensions observed that the strategic narrative must permeate all levels and messages need to be heard directly from the 'horses mouth' – i.e. the most senior leadership. Organisations must not and cannot rely on whispers and rumours to get the story right.
Richard Thorne, Group HR Manager Admiral, was keen to impress that when identifying new talent and recruiting both internally and externally a key focus must be finding individuals who fit with your organisations culture. Square pegs in round holes do not work and ultimately cause you more problems than they solve – a lesson we are learning slowly in the public service.
A significant amount is written on culture but a common mistake when listening to the voice of the organisation was identified by Greg Evans, Operations Director, Horizon Nuclear Power. Greg determined that as leader you cannot change culture you can only effect the environment in which it grows. It is the leaders job to always be aware of the current picture or the existing DNA of the organisation.
My final learning from the event came from two formidable women Angela Hughes, CEO Wales Air Ambulance Trust and Nita Clarke OBE, co-founder Engage for Success.
Angela argued that engagement must be based on integrity and that the cornerstones lie in building and maintaining trust and truly caring about those who work in and around your organisations.
Nita was clear that meaning and purpose, values and ethics, autonomy, mastery, growth and wellbeing are the leaders job and effort in these areas will create positive outcomes for employees and employers.
We make choices everyday as leaders in how we show up, how we engage others and whether we choose to take the same or different path to our leadership destination. The brave leader will step towards Nita's challenge and I am thinking about how I do this for the Academi Wales team over the coming months and how our work programme can continue to help support those of you already on this journey.
---
Written by Jo Hicks, Director, Academi Wales.
This blog was originally posted on the Academi Wales website.
---