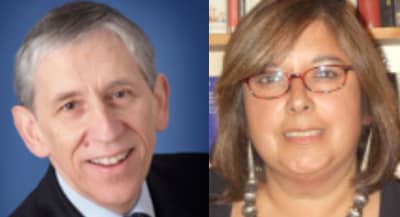 The founding members of Engage for Success, David MacLeod and Nita Clarke, have been awarded OBEs in the Queen's Birthday Honours recognising the importance of employee engagement to the UK and their own role in promoting this vital discipline; essential for corporate and economic growth.
MacLeod and Clarke were asked by Government In 2008 to examine the link at work between productivity and employee engagement. Their subsequent groundbreaking report, Engaging for Success, is still used today by HR and Communications leaders as a manual for improving motivation at work.
Following encouragement from business and government, in 2011 the pair set up the Engage for Success movement, which now involves more than 30 top CEOs/Chairpersons and senior corporate leaders from UK public and private sectors. Earlier this month, the movement released a report with Ashridge – Engagement Through CEOs Eyes – which looked at why more CEOs do not act in an engaging way with their staff.
David and Nita said of their OBEs:
"It's a great honour to receive this award – and it's a fantastic recognition of all the work many hundreds of people have put in to developing the Engage for Success movement over the past five years. Changing workplaces cultures for the better to enable people at work to give of their best is critically important for organisations, for individual employees and for the country as a whole as we meet the challenges of the new global century. We have been really lucky to have been able to work together and with a host of other inspirational people on the task force, the practitioner community and the guru group to increase understanding about what enables engagement and what gets in the way, and develop practical tools and tips. Visiting extremely impressive organisations across the economy and the country to learn from their experience lies at the heart of what we do and we hope to carry on developing our understanding of how engagement can transform organisations in the months ahead.
We are deeply grateful each to receive this Honour, which highlights the importance of engagement in the UK today. Engagement is a strategic solution to the economic difficulties the UK finds itself in.
By shining a light on best practice, and with the collaboration of so many business leaders in the country, we hope not only it will lead to the creation of better places to work and improved employee well-being, but also to make a significant contribution to growth."