By: Charlotte Dahl, Creative Planning Director, Woodreed and Engage for Success volunteer
MADWorld Mental Health and Wellbeing Conference 2021, Houndsditch London
An overnight storm, a landslide on the train tracks on the way to London and a force 9 gale that nearly threw me off London Bridge (OK a bit of an exaggeration on the last bit). Through all adversity I was determined to attend this flagship event dedicated to mental health and wellbeing in the workplace.
And I wasn't disappointed. 105 speakers, 10 workshops, 20 roundtables, 3 keynote panels and 40 suppliers of work culture, mental health and wellbeing solutions all under one roof. The MADworld summit is the conference and exhibition that puts mental health and wellbeing at the heart of the business agenda. And boy, could this have been any better timed as we all come to terms with the seismic shift on a personal, national and global scale in the light of the pandemic.
The objective of the summit is to help delegates find the insights and contacts to develop and embed sustainable mental health and wellbeing strategies in the workplace. Getting it right has never mattered more.
Movement for Mind
My day began with a delightful hour in the company of Professor Brendon Stubbs and Gary Raucher, Executive Vice President, ASICS EMEA sharing the results of a pioneering pilot to prove the impact of the power of movement to heal the mind.
As a major fitness fan (and ASICS trainer devotee) who understands first-hand the intrinsic link between physical movement and mental wellbeing, this was something close to my heart. Their trial among a randomised group of workers across eight organisations proved that by taking part in their simple to access 'Movement for Mind' programme, mental wellbeing was significantly improved.
The eight-week programme consists of two thirty-minute audio sessions per week, accessible for all levels of fitness. Each week covers a different theme and ASICS worked with a team of experts to develop each session so the programme builds week by week. What's brilliant is that ASICS are making the product available to anyone who'd like to use it without charge.
The four enablers
I listening to as many speakers as I could cram in (perhaps I should have worn my ASICS for speedier transit around the venue!). As I listened I was reminded how The Four Enablers continue to be as valid and important today as they were back in 2009 when Engage for Success identified them as the enablers for employee engagement and in turn high performing, healthy cultures.
Enabler one – Visible empowering leaders providing a strong strategic narrative
Julie Page, CEO of AON shared a stage with Geoff McDonald delivering their keynote onstage conversation 'The realities of making wellbeing a critical enabler of better business'. They talked of the importance of wellbeing as a strategic priority, not just an 'initiative' and highlighted the role of the leader as driving this. Some speakers were even suggesting Wellbeing might become a key tenet of organisational purpose. The audience welcomed hearing Julie talk of her own wellbeing with candour. She also talked of the power of kindness. Strong 21st Century leaderships and kindness can and should go hand in hand.
Taking leadership and wellbeing one step further, according to Sophie Smith, HR Director of Aldi, (during the workstream 'Winning with workplace mental health and wellbeing') leaders should actually become Wellbeing ambassadors. The idea of wellbeing being championed from the top was a sentiment echoed by all.
Enabler two – Engaging Managers
Julie Page also touched on the critical role of the line manager in wellbeing. Coaching them to gain the skills needed to listen, to understand, to be open.
Creating a culture where people are made to feel valued through the power of thank you, was deemed a line manager quality according to the National Highways.
Investment in managers to drive wellbeing was agreed as being vital to long term organisational wellbeing.
Enabler three – Employee voice
Employees not speaking up, according to Nick Tzion from Service Now could actually be an indicator of a toxic workplace culture – toxic culture and lack of welling intrinsically linked. He too talked of the importance of authenticity in the workplace. Keep it real, dream big and LOL (laugh) were his recommendations for a healthy workplace culture. Leaders need to walk the halls (be it virtually or physically) and allow their people permission to criticise.
Enabler four – Organisational integrity
Julie Page from AON, as did many of the speakers, talked about the need for authenticity in leadership. One of the silver linings of the pandemic for workplaces was the increase in authentic leadership. Hang on to this leaders – make your authentic voice heard.
Digital innovation
Finally, I attended an afternoon session where tech innovators had just 180 seconds to 'pitch' their wellbeing tech solution to a panel of esteemed judges. With tech one of Gallagher's four key future trends for internal communications I wanted to see what was leading the way right now when it comes to solving wellbeing challenges in the hybrid workplace through tech.
First place for sartorial excellence for me was Occupational Psychologist Maria Paviour, the founder of 'Wellbeing with Cari '. The solution was pretty neat too. The rest of the pitches sought to solve a range of pre and post March 2020 wellbeing solutions.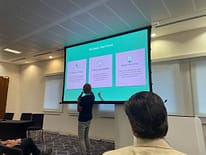 Standout for me was Sanjay Lobo with OnHand, a location-based app that makes doing good simple (who was the ultimate winner) and Ben Towers with Tahora, a connectivity platform that matches colleagues socially around the things they love. (Ben is an EFS volunteer too, it's always good to stumble upon fellow EFSers at these kinds of events 😊).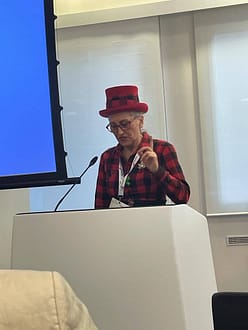 Finally, magpie like, a few shiny things (apart from Maria Paviour's hat – another EFS contributor) that caught my attention. Centrica's people having done a combined total of 40,000 hours of volunteering in lockdown, way to go. Dhavani Bishop advising attendees to take a moment to reflect over lessons learnt since March 2002. What have you done that you love? What will you keep? What will you lose? In the new hybrid workplace breaking the link between presentism and output. Geoff McDonald's wellbeing acronym 'CAN DO' as a great piece of wellbeing advice we could all do with remembering
Connection – be social
Active – move
Nice – say one nice thing to someone everyday
Discover – be curious
Observe – be mindful